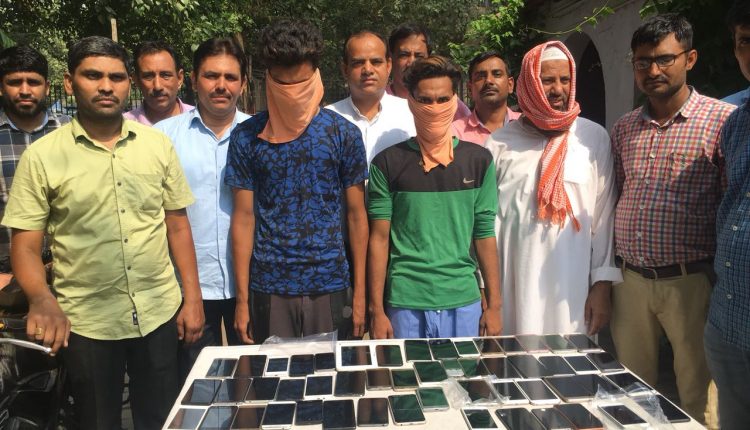 New Delhi: The staff of Narcotics Squad, Central District has arrested two notorious snatcher-cum-auto lifters namely, Samad aged 19 years, Mohd. Javed aged 20 years and one receiver of stolen property namely Abdul Karim aged 45 years.
One stolen motorcycle and 52 mobile phones have been recovered and total nine cases of mobile snatching/theft/MV Theft and one NCR have been solved.
On the evening of 6th june, a secret information was received by ASI Kanhiya of Narcotics Squad, Central District that two person who commit snatchings on stolen motorcycle would come near Samta Sathal, Darya Ganj to sell the stolen mobile phones to their receiver. Acting upon this information, a raiding team led by Inspr. Lalit Kumar I/C Narcotics comprising of ASI Kanhiya Lal was formed.
The police team immediately laid a trap near Samta Sathal, Darya Ganj and at about 9.30 PM, two persons riding on a Black colour Apachi motorcycle came there and started waiting for someone. After some time, one person also came there. At the instance of informer, the police team apprehended them. On questioning, they could not produce any document in support of ownership of the motorcycle. On verification, the motorcycle was found stolen from the area of PS Darya Ganj. They were identified as Samad, Mohd. Javed and Abdul Karim. On their cursory search, seventeen mobile phones were recovered.
Afternoon the Investigation amd Interrogation, All the accused persons were subjected to sustained interrogation in which accused Samad and Mohd. Javed disclosed that they are drug addicts and to fulfill their requirements, they started committing crime. They stole two-wheelers by breaking the lock and then they commit snatchings of mobile phones/valuables of the passersby in different areas of Delhi.