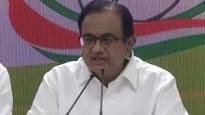 New Delhi: (05/07/2019) Finance Minister Nirmala Sitharaman presented her maiden budget as she faces the challenges of creating jobs and spurring growth.
The government placed a big thrust on infrastructure sector in Budget 2019, proposing to spend about Rs 100 lakh crore in the next five years. It has announced the formation of an expert committee to suggest ways to address the challenges of infrastructure financing.
Former Finance Minister P Chidambaram in a press conference after the Budget speech, said, "The Finance Minister should have been transparent about how much revenue the government expects to raise with the raise in taxes"
P Chidambaram on Finance Minister Nirmala Sitharaman keeping budget documents in four fold red cloth instead of a briefcase, said, Take it from me, our Congress' finance minister will in future bring an iPad."
He further claimed that we have reduced NPAs by Rs 1 lakh crore, she should have also said that in the same period banks have written off Rs 5,55,603 crore, why didn't she say that, I don't know.
" We are registering our protest here, but what else can people do? As a political party, we are articulating the disgruntlement of the common people on their exploitation through taxation. There is nothing in the Budget that explains how you are going to reverse the slide in agriculture," added P Chidambaram.