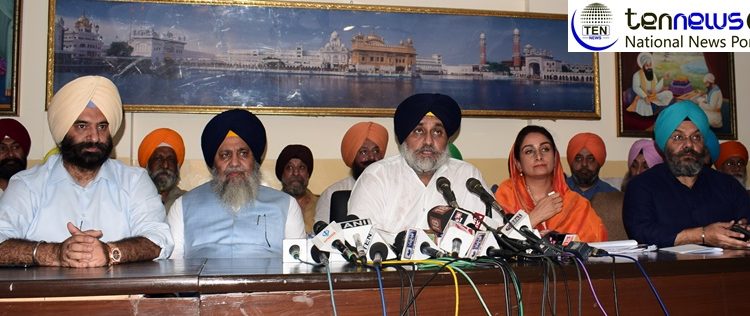 After Union government's move, Akali Dal demands Delhi and Punjab govt to exempt state GST from charitable religious institutions 
Kashif Hasnain (Photo/Video) By Lokesh Goswami Ten News Delhi :
New Delhi: Excited with the decision of Union government which exempt Central GST and integrated GST from charitable religious institutions, Shiromani Akali Dal (SAD) welcomed the move and demanded from state governments to follow the footprints of Union government.

They especially urged, Punjab, Delhi and Bihar government to exempt state GST from from charitable religious institutions. 
While addressing media on Friday in New Delhi, SAD president Sukhbir Singh Badal said that the party and Sikh community are glad with the move of Union government. Now, the religious eateries (Langars) are out of the GST and Union government has assured for full recovery of the tax paid by the religious institutions.
"As a president of the SAD, I'm thankful to PM Modi and Finance minister for this brave move. Till the GST implementation Rs 5 crore tax has been submitted by the Gurudwara committee. It will save huge money and the institutions can extend their support to the public," SAD president Sukhbir Singh Badal.
On May 31, Ministry of Cultural issue a notice which states, union government has approved a fund of Rs 325 crores for the 'Seva Bhoj Yojna' scheme of financial assistance from financial year 2018-19 and 2019-20. 
Under the scheme, CGST and Union government's IGST paid on purchase of specific items by charitable religious institutions for distributing free food to public shall be reimbursed as financial assistance by the Union government.
"Those charitable religious institutions which are older than five year, feed more than 5000 people and paid taxes will be benefited and their CGST and IGST will be exempted," said Union Minister Harsimrat Kaur Badal adding that apparently, all institutions either of Hindu, Muslim, Sikh and others will be benefited under this scheme and precisely sikh institutions will be benefited more."  
On question of SAD stand on giving minority status to Hindus in Punjab, SAD president, denied to reply this question, however, yesterday, Delhi Gurudawar Management Committee claimed that not only Sikh community but SAD is also against giving minority status to Hindus in Punjab.