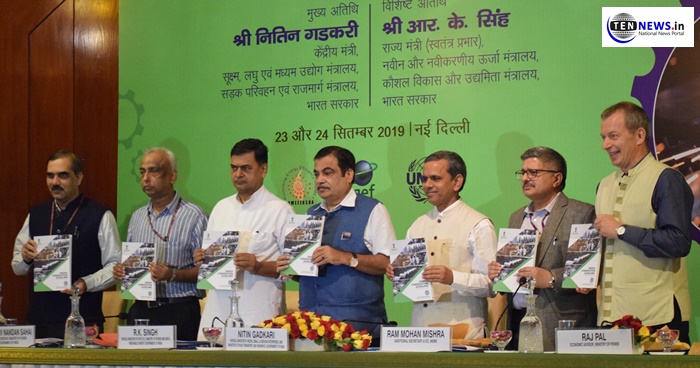 Delhi: Bureau of Energy is organising "National Conclave on Enhancing Energy Efficiency in MSME sector". The two day conclave cum exhibition commenced on 23 September.
On the first day, Union Minister Nitin Gadkari was the chief guest for the event and inaugurated the conclave along with RK Singh Minister of state, Ministry of Power and New Renewable Energy.
The key highlight of the event was the release of Energy conservation guidelines for MSME and launch of knowledge management portal "SIDHIEE" under the BEE's MSME program. After that an MoU for enhancing energy security in MSME was signed between Ministry of MSME and Bureau of Energy.
In his inaugural address Nitin Gadkari said "In our country MSME contribute 27 percent to GDP which we want to take it up to 50 percent and in next Five years we are trying to generate 5 crore more jobs.

He said "power, waste and agriculture is our future and we have to work towards it. We need to shift on electric vehicles and that electricity is to be generated through green energy sources instead of the traditional sources. Logistics cost in our country is very high we need to cut it by talking substitute like inland waterways, ethanol, CNG, LNG and electric vehicles".
In the context of energy R K Singh highlighted that "Industrial energy demand in India has almost doubled in the last five year and it is expected that the growth the demand for energy may continue. He said we will follow what union minister told us and will try to implement it.

Further he said "If a particular government want to give subsidy in electricity, then they should transfer the subsidy direct to the beneficiary instead of making electricity free because this will increase the wastage of electricity.

Director General of Bureau of Energy Efficiency named 'Perform Achieve Trade' scheme, energy labelling of appliances, energy efficiency in buildings as some of the programs initiated by BEE.