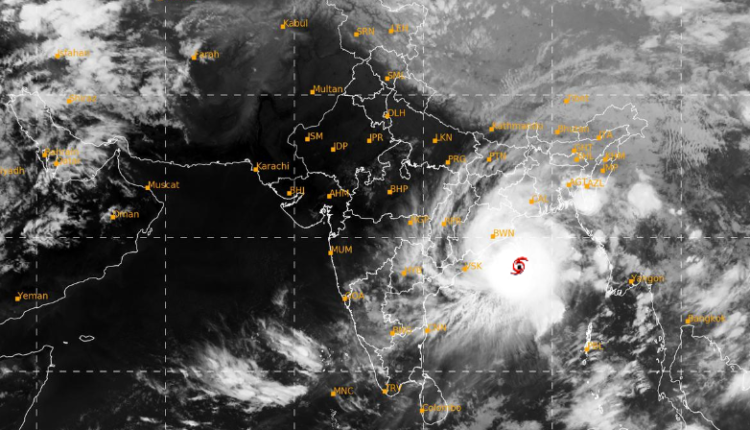 UPDATE (at 1500 Hrs. IST)- Super Cyclonic Storm 'AMPHAN'
Ten News Network
he National Weather Forecasting Centre/Cyclone Warning Division of the India Meteorological Department has come out with the update at 15000 Hrs. IST as follows:
DATE/TIME (IST) OF OBSERVATION
1430 HRS IST OF 20-05-2020 / 0900 UTC OF 20.05.2020
CURRENT LOCATION LATITUDE/LONGITUDE

SUPER CYCLONE AMPHAN CENTRED AT 1430 HRS IST OF TODAY, THE 20TH MAY 2020, AS AN EXTREMELY SEVERE CYCLONIC STORM OVER NORTHWEST BAY OF BENGAL NEAR LAT. 21.40°N AND LONG. 88.1°E,  ABOUT:

190 KM EAST-NORTHEAST OF PARADIP.
65 KM EAST-SOUTHEAST OF DIGHA.
35 KM SOUTH OF SAGAR ISLAND.
225 KM SOUTH-SOUTHWEST OF KHEPUPARA (BANGLADESH)

LANDFALL PROCESS COMMENCED AND FORWARD SECTOR OF THE WALL CLOUD REGION ENTERING INTO LAND IN WEST BENGAL AND LANFALL PROCESS WILL CONTINUE FOR ABOUT 04 HOURS.

CURRENT INTENSITY

NEAR CENTER

160-170 KMPH GUSTING TO 190 KMPH.
OBSERVATIONS FROM THE COAST
WIND-SPEED (KMPH):

PARADIP-59, CHANDBALI-44, BHUBANESHWAR-15, BALASORE-91, PURI-15 AND GOPALPUR-09 KMPH.

KOLKATA-69, DUMDUM-15, DIGHA-50, DIAMOND HARBOUR-20, HALDIA-50, CANNING-36.

RAINFALL (IN MM SINCE 08:30 HOURS IST OF 20TH MAY 2020):

PARADIP-87.1, CHANDBALI-41.2, BHUBANESHWAR-33.8, BALASORE-48.4, PURI-16.0 AND GOPALPUR-00 MM.

KOLKATA-30.4, DUMDUM-27.5, DIGHA-56.4, DIAMOND HARBOUR-14.1, HALDIA-34.8 AND CANNING-11.8 MM.

PAST  MOVEMENT
MOVED NORTH-NORTHEASTWARDS WITH A SPEED OF 20 KMPH DURING PAST 06 HOURS.
FORECAST MOVEMENT,  INTENSITY AND LANDFALL
LANFALL PROCESS WILL CONTINUE FOR ABOUT 04 HOURS. SYSTEM VERY LIKELY TO MOVE NORTH-NORTHEASTWARDS AND CROSS WEST-BENGAL-BANGLADESH COAST BETWEEN DIGHA AND HATIYA CLOSE TO SUNDEBAN DURING LATE AFTERNOON  TO EVENING HOURS OF TODAY (1600 HOURS IST ONWARDS) WITH A WIND SPEED OF 155-165 KMPH GUSTING TO 185 KMPH.

WIND FORECAST FOR COASTAL ODISHA
100 TO 110 GUSTING TO 125 KMPH ALONG AND OFF JAGATSINGHPUR, KENDRAPARA AND BHADRAK DISTRICTS TILL AFTERNOON AND OVER BALASORE DISTRICT TILL EVENING.
Kindly visit www.rsmcnewdelhi.imd.gov.in and www.mausam.imd.gov.in for updates on the system.