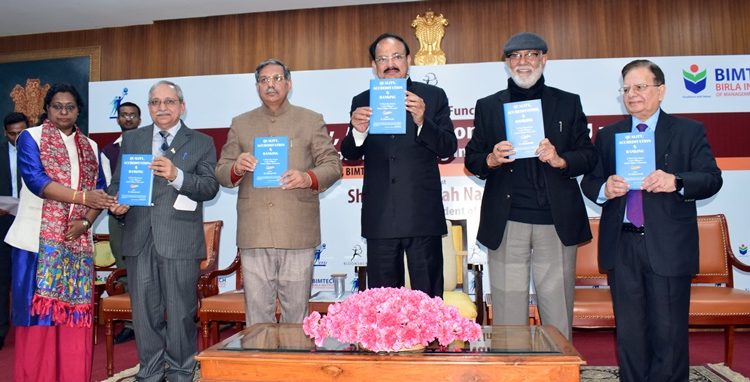 New Delhi: Vice President M Venkaiah Naidu on Saturday released Dr H Chaturvedi, Alternate President, EPSI edited book titled "Quality, Accreditation & Ranking – A Silent Revolution is in the Offing in Indian Higher Education" at his house in New Delhi. The Book has been published by the Bloomsbury Publishing India Pvt Ltd.
The Book Launch was Graced by the Dignataries like,Dr DP Singh, Chairman, UGC and Padmashri Dr Pritam Singh, Former Director, IIM, Lucknow & MDI Gurgaon as Guest-of-Honour.
Speaking on the occasion, Vice President Venkaiah Naidu stressed on the need to provide education that inculcates values, morals and ethics.

He said that, "The Book presents an analysis of the past and present scenario in the Indian Higher Education. The book also outlines the views of the authors on how to raise the quality of our colleges and universities to enable them compete globally.Quality assurance is important for improving higher education sector. The root cause of the problem in private and government-funded institutions is commercialization and poor governance respectively."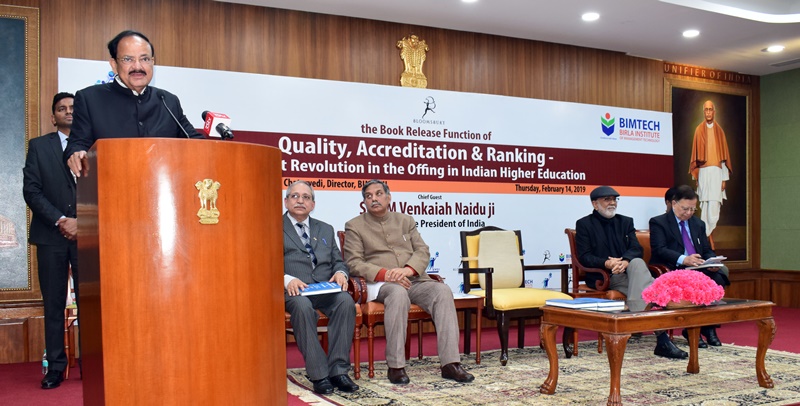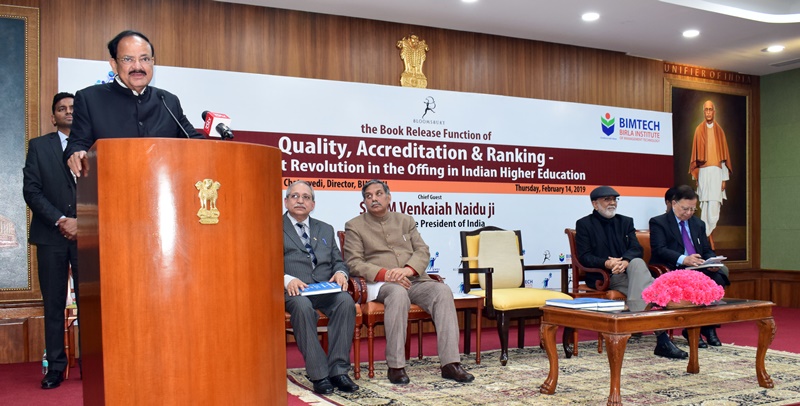 He further said, "The true quality of education should be assessed by its ability to foster responsible citizenship and social cohesiveness, and inculcate moral and ethical values in students. Our higher educational institutions must accord greater importance to research & innovation and create an eco-system for creativity to thrive. Having a research facility at Post Graduate College level should be a criterion for obtaining accreditation by authorities."
"Higher education transforms an individual into a responsible human being with social, moral and ethical values embedded in him or her apart from making the person more productive," he said.
"BIMTECH , BITS Pilani are the Institutions of Excellence. Every sector of economy is craving for more allocation , which has resulted in deficit. Innovation Centres and Researchers must come up with ideas to solve community problems. As a Vice President I have a responsibility to ensure that programs are reaching to people," Added Venkaiah Naidu.
Speaking on the occasion Dr H Chaturvedi, Director, BIMTECH said,
"This evening is very momentous for me as well as for the organizing Institution. It's Proud moment for us that M Venkaiah Naidu Vice President releasing the book titled Quality, Accredition & Ranking – A Silent Revolution in the Offing in an Indian Higher Education. The Book presents an analysis of the past and present scenario in the Indian Higher Education."
Padmashri Dr Pritam Singh, Former Director, IIM, Lucknow & MDI Gurgaon said,
"We Require Some kind of enhancement in the budget for the higher education. We spend 0.9 % and china spend 2.40 %. In America indians are respected because they are holding good postions in Academic institutions. If you want to have a great medical college you must have great hospital. When i read i forget when i see i remember, when i do i know it. Some kind of initiatives for the Higher education must be done. Basic objectives of education is to make wealth and money so if we can't do it what's the purpose higher education."
Dr DP Singh, Chairman, UGC, said,
"Dr. Pritam Highlighted issues, concerns problems and suggestions as well. India is dynamic power which has open the door for every university. As a nation we are making GRM to 30% by 2020. The government of India is working to Access, Equity, Excellence, government of India have achieved the first two and shoud aim for the excellence now."