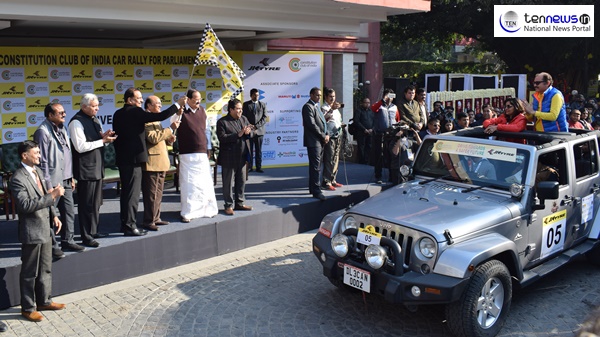 New Delhi : ( 16/12/18) A road saktey Car Rally is one of the annual event organized by the Constitution Club of India (CCI) in association with JK Tyre . The 6th Edition of the Car Rally was held today.
The participants were required to visit every check-point according to the route given to them on the basis of Time, Speed, and Distance (TSD) format. It is not a race, but a precision driving through managing speed in a given period of time which enable the feature of road safety.
The motto of the Car rally was "Road Safety".
India has the second largest road network in the world ranging from most modern highways stretching down to narrow, unpaved roads. Roads are the easiest way to access any part of the country.
Significantly, our politicians spend a major part of their life travelling for election campaigns, meeting people in their respective constituencies or accessing their workplaces. However, the pressure of time, exhaustive working hours and early morning to late night travelling make them more vulnerable to the fatalities on the road. We have lost several Parliamentarians and Ministers in course of road accidents.
M Venkaiah Naidu, Vice President of India expressed his concern about road accidents and shared that these types of rallies are essential to create awareness & promote road safety. He added that Road safety campaigns should be launched in all high schools and colleges. The media, particularly electronic media should be used to highlight the importance of safe driving and perhaps the services of well-known public personalities, icons in the fields of art culture sports etc could be sought for promoting these campaigns.
Rajiv Pratap Rudy, the man behind the show and Secretary, CCI also expressed his concern about the road accidents and shared that India witnessed 17 deaths and 55 road accidents every hour in 2016, one of the highest in the world. According to a World Bank estimate, road accidents cost India about 3% of its gross domestic product (GDP) every year which is approximately over five times the budget of the Ministry of Road Transport and Highways, the nodal agency for ensuring road safety in India.
Rudy also recalled the message of Prime Minister on Road Accident in "Mann Ki Baat"
This alarming trend of road accidents and casualties has increased the severity and the spiraling road accident numbers bring to the fore the urgency and the need to enhance the awareness among the masses of this country.
It is for this very same reason that Constitution Club of India in partnership with J K Tyre has taken this initiative to ensure a campaign to save lives so that the country can reap its economic dividends also.