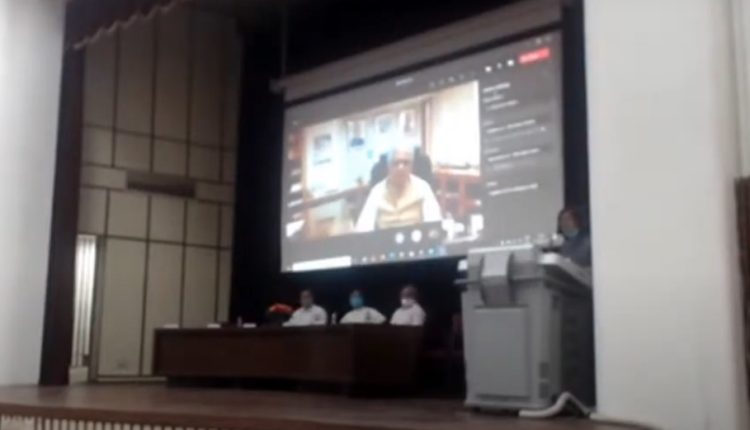 Greater Noida :  On Monday, Vijnana Bharati organized a webinar on "From many to One: Saga of Indian Calendar". The webinar was joined by prominent speakers.
Delivering the opening remarks during the webinar, Shekhar C. Mande, Director General of Council of Scientific and Industrial Research (CSIR), said, "Today is 22nd March and as per the Indian traditions, today we enter in a new calendar year, while in the west it is taken as the arrival of spring. As we are aware, when we got rid of western colonial powers, we didn't have too many things of our own, including industries. We were always told that science and technology is western and their entire education system was forced upon us."
But the fact is that we have had a very developed science and technology system in our country for hundreds of years, we had a fantastic education system with a very active and vibrant society, much before the colonial power discovered our geographical area. When the colonial power went away, we became deprived of our accounting system for calendar.
At that time many different calendar systems were is use, but as a country, we need to have a single calendar system. CSIR has been asked to perform this task and review all the existing calendar system and then come up with the recommendation on what would be the correct calendar to be followed. A committee was formed in 1957 which submitted its report to the parliament and this is how our own calendar came into existence.
Jayant Sahasrabudhe, National Organizing Secretary, Vijnana Bharati told about the history of India calendars. India adopted the Bharatiya Saur Shaka, based on Saka era with Chaitra as its first month. Unlike the many traditional calendars across India, the dates of this calendar have a permanent correspondence with dates of the Gregorian calendar. First day, Chaitra 1 falls on March 22 every year; March 21 in a leap year.
"And no, unlike how many would quickly conclude, this is not a recent attempt at "saffronisation", but India had adopted the Indian national calendar on March 22, 1957, corresponding to Chaitra 1, 1879 Saka era. Leading astrophysicist Meghnad Saha had headed the Calendar Reform Committee, which submitted its report in 1955."
"The CSIR Reform Committee had suggested a fundamental change via adopting the solar system, unlike the lunar months as followed by most of the 30-odd traditional panchangs across India."
"The then prime minister Jawaharlal Nehru in his message to the Calendar Reform Committee, formed under the aegis of Council of Scientific and Industrial Research (CSIR), had clearly pointed out the need for the exercise in view of the 'uniformity' needed in post-independent India."
Dinesh K. Aswal  Director, CSIR- National Physical Laboratory, said, "If we tried to look back to when the first calendars were made, we would find that they have been in use for over 2,000 years. This suggests that thousands of years ago people had already discovered patterns of time and seasons. It affected when they planted, harvested, hunted, and performed many other of the tasks necessary to their very survival."
"However, the calendar we know and use today, the Gregorian calendar, first came into use around 1582. Our use of this calendar is not so very different from the ones used thousands of years ago. We use them to keep track of social events as well as appointments."
"One important role calendars play in our daily work is to help us be more productive. There are a couple of different ways calendars can help us do this."
"First, using a calendar assists us with creating a routine in our day. As an example, most of us rise from bed at a certain time, perform our daily rituals of grooming and breakfast, and then head off to work."
The webinar was hosted by Dr Rina Sharma, Senior Principal Scientist , CSIR.
Vijnana Bharati is running a Swadeshi Science Movement for interlinking traditional and modern sciences on the one hand, and natural and spiritual sciences on the other hand.