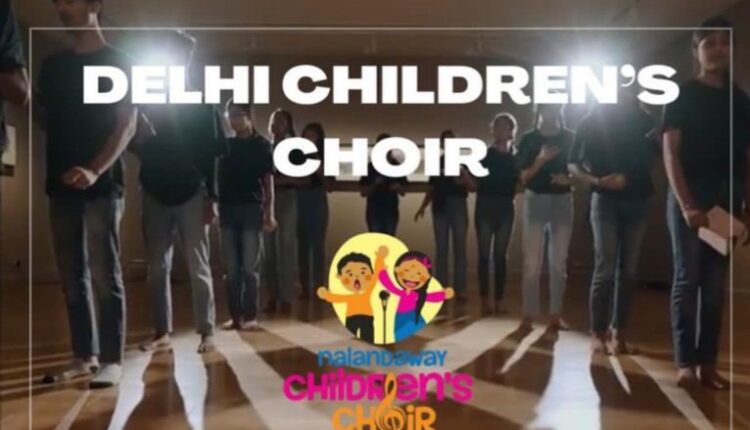 Weekends at KNMA Featuring Delhi Children's Choir

New Delhi, Aug 2022: The Kiran Nadar Museum of Art brings you a musical weekend event featuring Delhi Children's Choir by Nalanda Way. This is an hour long choir concert featuring inspirational Hindi songs. This offers the opportunity for audiences to immerse themselves in art, music and culture.
As part of the #WeekendsAtKNMA initiative, new and extensive programming has been planned to celebrate art and culture. Through this, the museum aims to expand its reach and tap into new and diverse audiences. KNMA is seeking to build on its mission to grow a museum-going culture and encourage viewers to explore different aspects of art, at the crossroads of culture and performance.
Date: 21st August, 2022!
Time: 6pm onwards!
Where: KNMA, Saket
Children's Choir:
Who would think a world-class choir could be put together by children from the most disadvantaged communities? The Nalanda Way Choir project is proof that it can be. Initiated first across Chennai (2015) and then Delhi (2018), this project taps into the transformative powers of music to help children emerge as more confident, hopeful and skillful. Both the Chennai Children's Choir & Delhi Children's Choir have performed widely, alongside many celebrated musicians and across well-known venues.
The Kiran Nadar Museum of Art
Established by art collector Kiran Nadar in 2010, the Kiran Nadar Museum of Art (KNMA) is the first privately-funded museum of art exhibiting modern and contemporary works from India and the sub-continent. Located in New Delhi NCR, India's capital city, KNMA hosts an ever-growing collection of artworks that both highlights a magnificent generation of 20th-century Indian painters from the post- Independence decades and engages with the different art practices of younger contemporaries.
Sponsored by the Shiv Nadar Foundation, KNMA is focused on bridging the gap between art and the public and fostering a museum-going culture in India. KNMA aims to become a place for confluence, dialogue and collaboration through its curatorial initiatives and exhibitions, school and college workshops, art appreciation discourses, symposiums, and public programs.