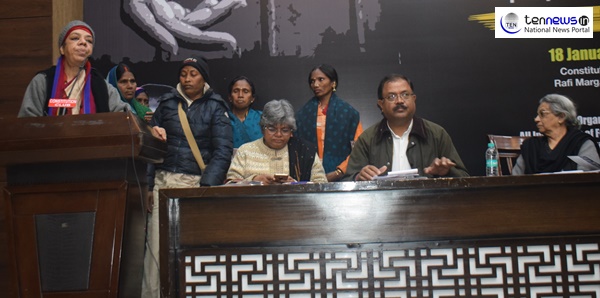 New Delhi ( 18/01/2019): All India Union of Forest Working People (AIUFWP) today held a session in the capital where under the banner "Women in Resistance : Women in Prison", discussed the mis-happenings in remote areas where women, due to inadequate facilities chooses the criminal way to spend lives.
Various women activists who have been falsely implicated and have been languishing in jails addressed the hearing along with human rights lawyers, academicians and civil society leaders were also the part of this public hearing.
Over the past 15 years, Indian jails have seen a rise in women inmates by 61%. However, they are only 4.3% of the national population and thus hardly raise any red flags in the larger scheme of things.
Women in Indian jails are not a major policy concern for the State. For decades, they have suffered the lack of basic infrastructure, health care, vocational training and humane treatment. A larger cultural understanding of criminality dictates that crime is masculine in nature. Thus, any women who dare to perform this masculinity deserve to be dehumanised and made to be invisible.
From the report of women in prisons published on June 2018, by the Ministry of Women and Child Development, a majority of female inmates are in the age group of 30-50 years (50.5%), followed by 18-30 years (31,3%). Of the total 1,401 prisons in India, only 18 are exclusive for women, housing 2,985 female prisoners.
Thus, a majority of women inmates are housed in women's enclosures of general prisons' From custodial torture, rape, denial of health services, lack of clean food and water and a sheer ignorance on behalf of the state, the Indian prison has failed to respect the rights of the inmates. Various studies done within Indian prisons have always concluded that majority of prisoners come from Adivasis, Dalits and other marginalised communities are being criminalised. Their social and economic backwardness makes them vulnerable, being not being able to defend themselves legally and financially.
They are all targeted by the State more than citizens belonging to upper caste upper class gentry. This then brings into question the role of the prison, the State and their goal when it comes to countering crime. Crime by definition means the gross violation of law, the subjectivity of the act of crime requires investigation, and judicial intervention. But as many reports have found, a majority of confessions from prisoners who Come from socially and economically underprivileged background are forced out of them through torture and blackmail.
Speaking to Ten News, Roma from AIUFWP said,
"We would be coming out with a detailed report as well as compile the experiences of the women prisoners in the coming months. We hope that this compilation will inspire the activists and the support groups across to build up strength to address the issues of the inequities and repression mounting around us."