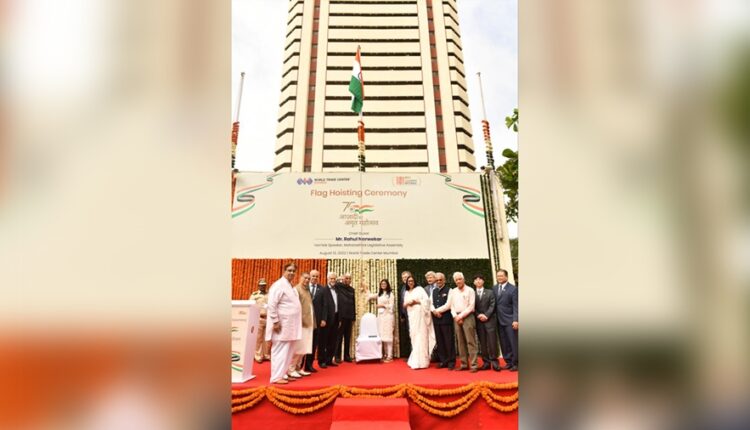 Mumbai (13/08/2022): India stands tall in the global map with a resilient economy and excellent relations with foreign countries, says Ms. Narwekar
"I feel deeply honoured to preside over the flag hoisting ceremony on this auspicious occasion of Azadi Ka Amrit Mahotsav to commemorate 75 years of Indian Independence. This is an occasion to express our patriotism and oneness for the greater cause of our society and nation. Today, India stands tall in the global map in terms of its resilient economy and excellent relations with foreign countries. The residents of Cuffe Parade and Nariman Point have responded with zeal and enthusiasm to the Hon'ble Prime Minister's call of 'Har Ghar Thiranga '. All the residential, commercial and government buildings in this area are well decorated with national flag. Within a short span of time, the entire administrative machinery of the state government and the Municipal Corporation have made all arrangements to celebrate Azadi Ka Amrit Mahotsav," Ms. Harshita A. Narwekar, Ex-Corporator, Brihanmumbai Municipal Corporation said while addressing a flag hoisting ceremony at WTC Mumbai.
Speaking about her vision for urban development in her locality, Ms. Narvekar said, "My vision is to transform Cuffe Parade and Nariman Point into a sustainable habitat by protecting the coastline from rising sea level. It is also my vision to revive localities in Colaba, Nariman Point and Cuffe Parade by collaborating with urban planners and designers. Already, we have started urban revival project at Kala Ghoda area with the cooperation of residents in that area."
Earlier in his welcome remarks, Dr. Vijay Kalantri, Chairman, MVIRDC World Trade Center Mumbai pointed out, "I am glad that our Hon'ble Prime Minister's appeal of 'Har Ghar Tiranga' has received overwhelming response from the citizens and industry. The entire nation has come together to celebrate 75 years of Indian Independence with pride and vigour. Today, India is the sixth largest economy and also the fastest growing economy. Our country stands tall by achieving overall progress in economy, tourism, food security, information technology and space science. In this historic moment, every Indian citizen should take the pledge to add on to this progress by realizing the dream of USD 30 trillion economy before we reach 100 years of Independence. India should aspire to be a global leader in renewable power, green energy and sustainable development. I am confident that India will be an economic, cultural and political superpower to reckon with in the next two decades."
The event received overwhelming participation from Consular corps, diplomatic missions and members of trade & industry. During the event, Ms. Harshita Narwekar and Dr. Kalantri inspected Guard of Honour and hoisted national flag.
Capt. Somesh Batra, Vice Chairman, MVIRDC WTC Mumbai proposed vote of thanks for the event.