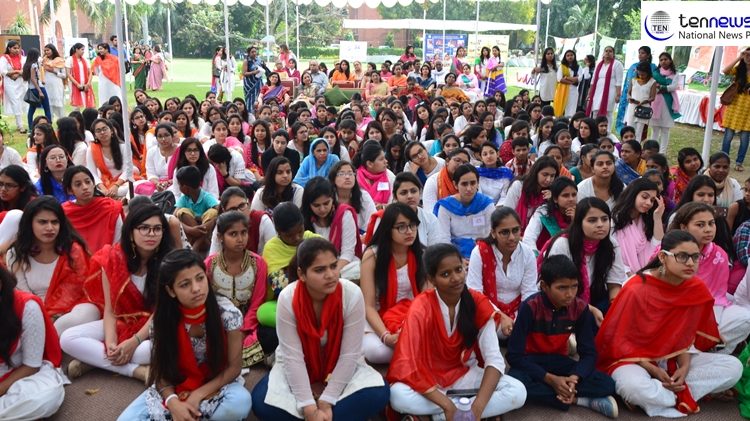 'Yuva Shakti Mela 2018' At Lady Irvine College!
New Delhi: Lady Irvine College has been recognized for excellence in work related to Communication and Extension. The college is affiliated to Delhi University. College provide education in the field of Home Science and offer Bachelor degree, Master degree and Doctorate degree in Home Science
The Department of Development Communication and Extension (DCE) focuses on contemporary development issues and perspectives of the family and community. Students are prepared for careers in development sector. They are trained through a blend of strong academic grounding coupled with practical work experience.
Yuva Shakti Mela has been a regular feature and major department activity for Lady Irvine College. It provides a platform to students to showcase their products prepared under extension practical. Students get hand on experience to create information kiosks on various development issues to sensitize people at the grassroots. Another important activity integral to the curriculum is 'Each one, Enable one' program in which student carryout literacy related activities and adopt a learner for the same.
At Yuva Shakti Mela 2018, various NGOs like, The Richmond Fellowship Society, Sambandh Health Foundation, Aseem's Library, SPYM- Society for Promotion of Youth and Masses and Mash Project Foundation impacted the Mela in a huge Way.
NGO SPYM who have over 28 years of expertise in the filed of Drug Abuse Prevention & early intervention among Children, adolescents, youth & adults was one of the highlights of the Mela where
SPYM volunteers fought addiction of drugs and did Food catering for the Yuva Shakti Mela 2018.
Ten News Caught up with Some of the Faculty members of Lady Irvine College,
Dr Aparna Khanna, Dr Sarita Anand and
Dr Archna Kumar. Where they Spoke about how Yuva Shakti Mela has been an important activity and Integral feature of Lady Irvine College from past so many years.
Speaking to Ten News Correspondent, Prerit Chauhan About Yuva Shakti Mela 2018, Professor Dr Aparna Khanna Said, "The Yuva Shakti Mela is an opportunity for the learners of Each One Enable One programme to come to college and meet other neo-literate learners. This program motivates learners to go for continuing education programs. Every year the students organize a Yuva Shakti Mela with more than 35 edutainment based stalls".
Watch Full Coverage: