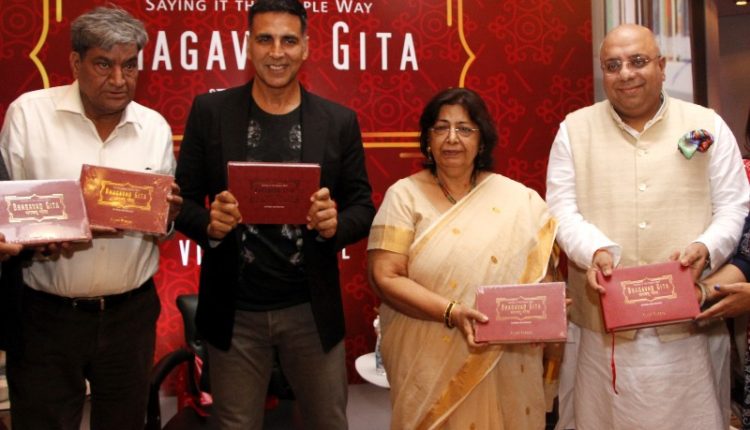 Akshay Kumar Unveils 'Bhagavad Gita – Saying it the Simple Way' Book in National Capital!
Prerit Chauhan (Photo/Video) By Lokesh Goswami Ten News Delhi :
New Delhi: The book 'Bhagavad Gita – Saying it the Simple Way' written by Vijay Singal was unveiled by Bollywood Superstar Akshay Kumar on Saturday, at an event held at Le Meridien hotel in New Delhi.
The book consists of translation of Gita shlokas in simple Hindi and English. Simultaneous translation in both the languages helps the reader in a better understanding of the content of these couplets. The placement of shlokas has been restricted to two shlokas per page so that the readers don't lose interest due to too much of text in a single page.
The launch was preceded by a brief discussion on the book with bollywood actor Akshay Kumar and Author Vijay Singal anchored by Dr. Annurag Batra, renowned media personality. The discussion revolved around the philosophy of Bhagavad Gita and how its teachings have great practical utility to each human being who inhabits the planet today.
While Discussing about the book Akshay Kumar said,
"It is my pleasure to launch this sacred book as I have always used certain teachings from the Gita in my daily life and it does make life less complicated and serene. I believe that 'God is one' and any path you take in the direction of self realism will eventually lead to Him'.
He further said,
"Even in the today's world of cut-throat competition, the teachings of Bhagvad Gita are much relevant as they make one question oneself about one's existence, purpose, relation with the universe and what is the real nature of human being."
"Finding answers to these questions helps in connecting the dots and giving real meaning and direction to one's life, hence gaining true satisfaction and contentment that a person looks for.
For more information please contact," added kumar.