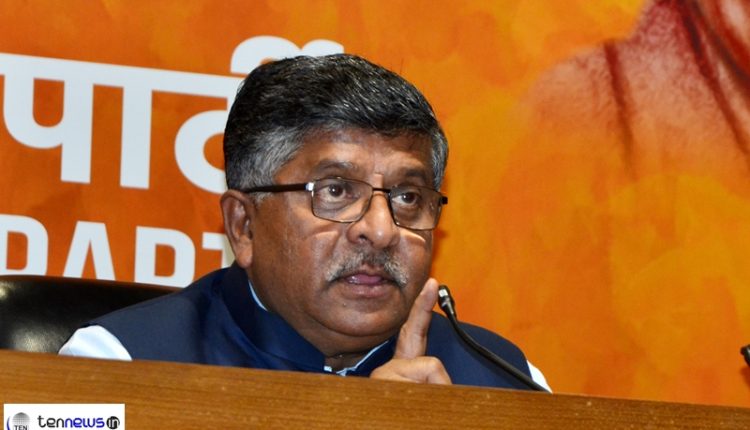 New Delhi: At a time when there were questions being raised on the BJP's treatment of its allies, several leaders of parties that are part of the NDA tweeted their support to the ruling party on Friday morning, declaring their faith in Prime Minister's leadership and wishing the BJP on its foundation day.The Bharatiya Janata Party's (BJP) rise over the past 38 years has been stellar. The party was officially created on April 6, 1980. It emerged from the Jana Sangh, which was formed in 1951 by Shyama Prasad Mookerjee.
On Friday, Union Minister Ravi Shankar Prasad Addressed media in a press conference at BJP HQ. The Minister spoke about the BJP Establishment and
recalled the prophetic words of Atal Bihari Vajpayee after becoming the President of the BJP in 1980: "Andhera chhatega, suraj niklega, kamal khilega" (The darkness will go; the sun will rise; the lotus will bloom).

Addressing The Media, Union Minister Ravi Prasad Said, "Today the BJP rules the country under the inspiring leadership of Prime Minister Narendra Modi with a clear majority. It is also in power, directly and through allies in 21 states, with 15 chief ministers and eight deputy chief ministers. It has truly become a national party, governing nearly 70% of the country. Indeed, under the leadership of party president, Amit Shah, the BJP has expanded across all regions to become the world's largest party in terms of members. Sacrifice for the nation, sacrifice for the nation's security and integrity are the part of the BJP's DNA."
"The BJP is very clear that it will not become a family dispensation. Even ordinary workers now become a chief minister and can aspire for any higher post. Two classic examples of it are a chai wala becoming the prime minister and a pradhan sevak who started as a booth-level worker now heading the world's biggest political outfit", added Prasad.