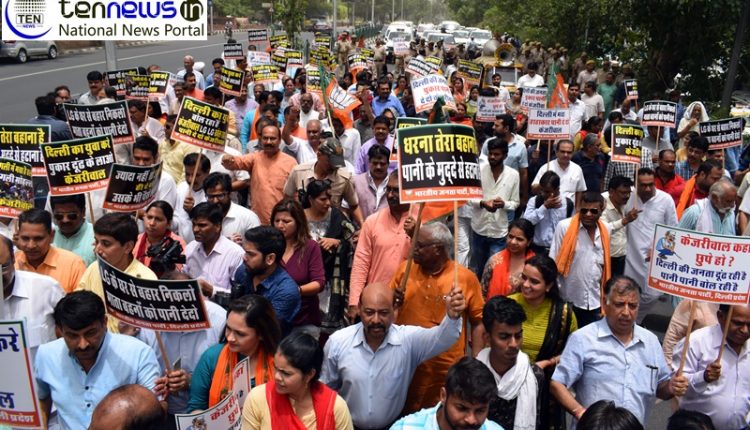 Demanding resolution of Water-Electricity woes, Manoj Tiwari leads protest march against Delhi Government!
Ashish Kedia (Photo/Video By Lokesh Goswami Ten News)
Amidst daily soaring mercury temperature, even Delhi politics had become heated than ever. This would be probably the first time in history of Delhi, when both Government and Opposition leaders are carrying on simultaneous protests.
Arvind Kejriwal is sitting inside LG house in visitor room from last three days to demand LG's intervention in the alleged ongoing strike of IAS officials. Whereas some BJP leaders reached out to Delhi Secretariat to meet CM and are sitting on agitation there.

Delhi BJP President Manoj Tiwari also led a protest march of different councilors from Saheedi Park to Delhi Secretariat. However the march was stopped just before ITO.
Speaking at the occasion he said, "While CM Arvind Kejriwal is relaxing in AC room of LG House, Delhi residents are facing massive inconvenience because of water and electricity shortage. Delhi CM instead of leading from forward and tackling these issues have chosen to divert attention by conducting an unnecessary drama. All the BJP councilors from different MCD's are here to represent the public of their constituency. We demand that Kejriwal should either resolve these problems or resign".
Large number of councilors from East, North and South MCD's were present during the agitation and raised slogans throughout the march.