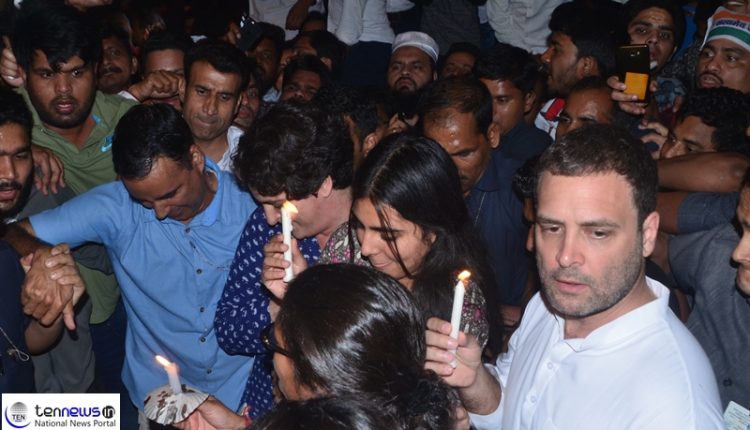 New Delhi :
Congress President Rahul Gandhi announced a "silent midnight candle light vigil" to protest against rape cases and to demand immediate strict action against the culprits. However this well-intentioned and much needed protest lost its significance due to hundreds of unruly supporters, who pushed, shoved, shouted and created an atmosphere of unrest throughout the march.
Thousands and thousands of people have gathered at 24, Akbar Road to join the march. It was scheduled to start around 11:00 PM from the Congress headquarter and right on time many senior leaders including Ghulam Nabi Azad, Ambika Soni, Prakash Gehlot marched forward. People later gathered at Maansingh roundabout and started sloganeering, ignoring senior leaders request to march silently.
The workers have gathered from Delhi, Haryana and other bordering areas of Delhi/NCR. Various state functionaries also made it a point to turn it in to a show of strength by displaying the number of supporters that had come on their call.
Around 11:30 PM the march moved ahead towards Rajpath, where large police party awaited their arrival. Delhi police had barricaded both sides of Rajpath in an attempt to not to allow protesters to march either towards India Gate or Rashtrapati Bhawan.
After reaching there and being informed of the barricades, Leader of Opposition in Rajya Sabha Ghulam Nabi Azad demanded to speak to the senior most police official present at the site. However he was advised to wait for arrival of Congress President. Phone calls were made and the group of senior leaders waited patiently. Soon Salman Khurshid and Prakash Gehlot arrived and moved to different sides of the barricades along with their supporters. Around 10 minutes later a chaos erupted on the barricaded side leading to Rahstrapati Bhawan. Congress President had arrived. Large number of supporters gathered around Rahul as soon as he arrived. He moved towards Ghulam Nabi Azad and joined the group.
Pushing, shoving, sloganeering started as SPG struggled hard to maintain some order around Congress President.
 Priyanka Gandhi Vadra offers support with family :
Few meters away from all this hustle and bustle, stood Priyanka Gandhi along with her family including husband and both kids. A small number of SPG guards encircled the family. I reached near her and greeted her with a nod which she responded in same manner. She looked little lost to make sense of all the chaos going on at the center. Using the opportunity I asked here about the reason behind selection of this midnight hour for the organize the protest.
"You have to ask it with them. I have just come here to register my protest", she responded.
Soon after she joined his brother, Rahul Gandhi and all of them lit candles to continue the march further.
While this went on at the center inside a closed circle of SPG guards, the ruckus continued around them unchecked. Security personnel's struggled with all their might to keep supporters at bay. The supporters in turn kept on bending and moving on different sides depending on the intensity of push. It was a literal wave of heads, as seem from little far off distance.
A little later, crowd was pushed again to make way for Rahul Gandhi's entourage. Delhi Police looked confused when the Congress President decided to ignore the barricades and wished to move forward towards India Gate. Supporters and his security made sure, barricades were removed within seconds. A perplexed Delhi police offered no resistance.
Later another similar barricade placed right in front of India Gate was also removed in similar fashions. Congress supporters jumped barricades, railing, pushed anything and everything that came in front and made their best attempt to stay closer to Rahul Gandhi.
Rahul Gandhi also has to switch between roads and the wet, muddy India Gate lawns to make his way to India Gate. The lawns that seemed to have been watered heavily just few hours back also resulted in many men and women falling while rushing with the crowd.
Priyanka on the other hand moved away from Rahul while moving towards the India gate in order to get away from over-enthusiastic supporters. Neverthless she moved ahead at her own pace, surrounded by few female congress members.
She lost her cool in between when few party worker attempted to push and come close in their attempts to click selfie. At one moment she also shouted at onlookers to maintain calm or leave immediately.
While this strategy of senior congress leaders to stay divided in order to divide the unruly crowd trying to catch their glimpse and click selfies worked to some extent. While Rahul Gandhi couldn't sit near India Gate due to extreme pushing and chaos, Priyanka managed to get some space meters away from India gate and sat their with her supporters.
Amid lot of chaos, please for silence, failed attempts of crowd management and everything else, she held her ground and remained seated for about 45 minutes. While his brother left the main India Gate Laws and reached the lane leading to Hyderabad house to make a very short address to media, from atop a vehicle.
Rahul Gandhi left around 1:15 and soon did Priyanka. Delhi police sprung into action as soon as senior leaders left. They cleared the area withing next 15 minutes. Leaving behind the spectacle of a protest gone wrong.
Also left behind were hundreds of candles, burning bright at the night hours and symbolizing a ray of hope amid all these times of horror.