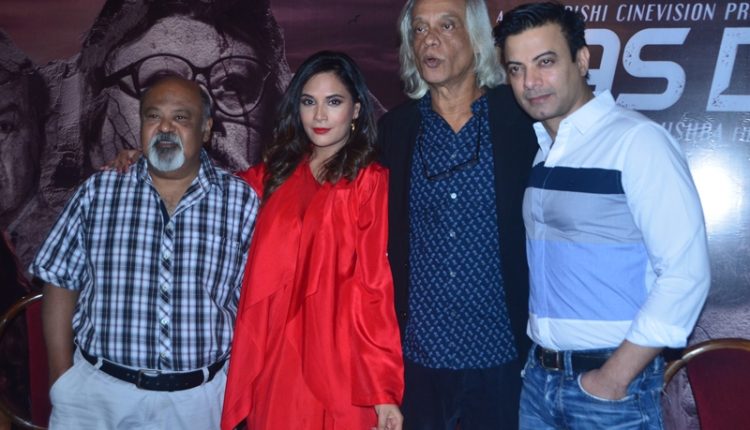 Richa Chadda, Saurabh Shukla promote romantic political thriller 'Daas Dev' in New Delhi!
PRERIT CHAUHAN (PHOTO/VIDEO BY SAURABH SHRIVASTAVA)
New Delhi: Actress Richa Chadda along with talented and veteran actor of Bollywood Industry Saurabh Shukla were witnessed in Nation's Capital for the promotions of their upcoming romantic political thriller film 'Daas Dev'. Along with them actor Rahul Bhat and director Sudhir Mishra were also present in the press conference held in Hotel Le Meridien. As their film is scheduled for release on the coming 20th April, therefore the entire team interacted with media and shared their experiences and views about the movie.

Richa Chadda reveals details of her Character
Richa said, "Challenges are always there especially for the movie or stories which were adapted few times and everyone knew this character was portrayed by big artists as well, so yes it was challenging, but I must say this movie is different, holding a new motive and a believable adaptation. This Paro is bit tough, I don't feel like nowadays Paro will cry for her Dev and will run after him in a saree. She has her own style and attitude, she rides her own scooty and bikes, showcasing her dignity and respect. Its an ego thing, we won't judge her whether she is right or wrong. This movie is a great adaptation and I am sure people will like this film."

Sharing his views about the movie, Talented Actor, Saurabh Shukla said, "I feel like this movie will target all kind of audience. Every Indian understands politics and its addiction so I think this is the most accessible of my films. And there is no problem of understanding at all. The subtext of the film, that you can fix everything your relations, work but you can't fix love."
Daas Dev is an upcoming romantic political thriller directed by Sudhir Mishra, starring Rahul Bhat as Dev Pratap Chauhan, Richa Chadda as Paro, Aditi Rao Hydari as Chandni, and Saurabh Shukla, Vineet Kumar Singh and Dalip Tahil in complex supporting roles along with Anil George, Deepraj Rana, Saurabh Tyagi with Anurag Kashyap in a guest appearance. The film is scheduled for release on 20 April 2018.