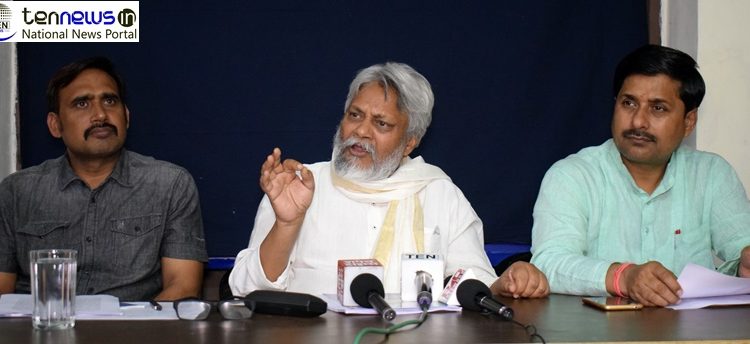 Water crisis and migration issues significant for Madhya Pradesh elections claims Civil Society Organization in Delhi
Lokesh Goswami Ten News Delhi :
India has faced very severe famine in year 1972, at that point of time few of states were not affected by it but this year acute water crisis is also alarming in rest of states as well. Ground reality can be judged by seeing current famine. 
People are compelled to leave their village, agriculature land seems barren due to lack of irrigation facility, farmers are out of grain, ponds look like plain land, wells are out of water. People are managing drinking water by travelling many kilometers. All the more, rivers are losing their existing due as there is no ecological flow. 

Water crisis badly affected the life of common people. If we talk about Bundelkhand , which lie between 13 districts , 7 in UP & 6 in MP, on every side there is crisi of drinking water. People stand in long queue for collective water on the few water sources. Many times, situation become much terrible due to fight for water. 
Here, it is important to mention that Bundelkhand is a region where Chandela & Bundela kings constructed more than 7000 big ponds for rain water harvesting. But now due to lack of maintainance most of these traditional water bodies are under worse condition. There is no action plan to protect traditional water bodies, government only believes in promises but there is lack of execution. Under Bundelkhand packages, Government releases 7.5 thousand crore for construction of water bodies but at ground level, there is nothing visible. The reason of poor execution is corruption by government machinery.
To fetch out the ground reality of 6 districts of Madhya Pradesh state of Budelkhand  region, a ground survey was done. According to this survey, startling figures came out, which indicate that approx 60-70 percent households have migrated while old age and children have been left in village. The situation is such because it is assumed that elders and children are prone to eating.
 Not only this, people who migrate in search of employement, women and girls from their family are victim of sexual assult. There are few cases in which women could never come back to village. In the name of employment, they are working as bounded labour. 
According to information collected during Yatra of Jal-Jan Jodo Abhiyan, Himmatpura, Shahjadpura villages of Block Batiyagarh of Damoh district in Madhya Pradesh, there are 500 voters but no handpumps were found. Similarly in Bhatiya Panchayat, only 3 handpumps are functional among 18 HP.
Most of Chandela Ponds are full with silt in Tikamgarh district, no efforts has been take for desiltation. Big traditional pond of Baldeogarh is also under similar condition. 
Now people has been desperate and have taken self initiative to protect their natural resource by doing community contribution. More than dozen of ponds has been desilted by such kind of Shrimdaan camps. 
Government is putting the curtain on the truth on the really of Budelkhand. According to government figures there is 54780 handpumps in which 49792 are functional. It means only 10 percent HP are not functional. If these figure seems true then there is no need to supply of drinking water through water tanker but situation seems totally different. Now question is that if everything is fine and sufficient water is available then why population is suffering from acute water crisis. 
Few days back, a gathering of social activist was done in Orchha Madhya Pradesh in citing with Jan-Andolan 2018. People during convention shared that more than 60% water sources have almost dried, farmers are hardly able to get back their input cost in agriculture and there is lack of employement.
After releasing the fact finding report , Madhya Pradesh government, in hurry released a press note and clarified that there is no water crisis in Bundelkhand. The stands of MP government seems very shocking.
The another reality of migration from Bundelkhand can be clearly visible at railway stations. Thousands of families are migrating to metro cities in search of livelihood but on the other hand Government said that everything is alright. 
This is the region that Civil Society organization decided that they will not in silent mode in upcoming Madhya Pradesh election as well as Lok Sabha Election in 2019, Civil Society Organization will took stand to raise their voice as well as create pressure group on all political parties to include people agenda and environment protection initiative in their manifesto.