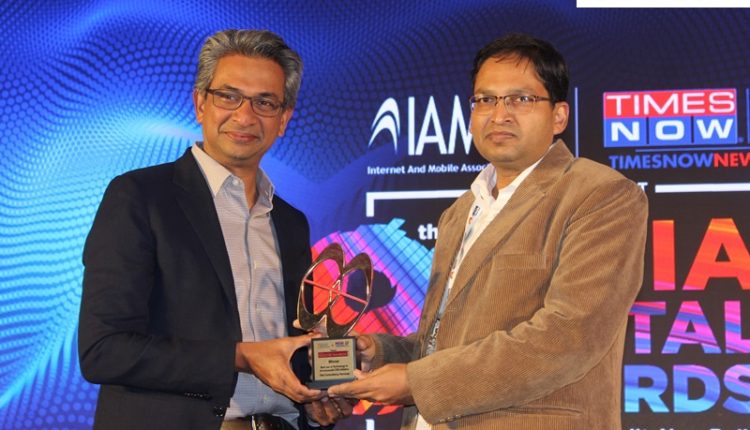 New Delhi: (18/01/2019) The government of India is taking many steps as a part of digital India mission and the event like India digital summit is the part of it. After the Grand success of 12th India digital summit, IAMAI hosted the 13th India digital summit, which held on 17th & 18th January 2019 in New Delhi.

The event purely focused on the digital, marketing, startup, technology and mobile. It was one of the largest gathering of industry leaders and veteran. More than 1600 delegates from the senior and mid-level management attended the India digital summit this year.
The Day-2 of the 13th edition of India Digital Summit started with the Keynote Address by Abhiraj Bhal,Co-founder,UrbanClap on
Full-stack Technology Marketplaces, Addressing the gathering he said,
"Internet platform will unlock market for end-Providers. We Partnered with service professionals across 5 levels. Internet platforms will redfine large industries in emerging markets. Urban clap partners multiply their earning after joining the platform. We do not hire professionals full-time, but partner with them under this model. We believe it preserves their entrepreneurial zeal and is most aligned to creating a strong end-user experience."
Yashish Dahiya, Co-Founder & CEO, PolicyBazaar in his Keynote Address speaking on Why Protection Through Insurance is Important for India, said,
"India have One of the lowest health covers in the world. Middle class we call it people earning from 3 lacs to 1 crore they will not get social security. The cost of hospitals is roughly 25,000 per day. It can be higher if it is serious illness.Policybazaar's foray into healthcare, as in case of insurance, was prompted by a passionate need to find solutions to very specific problems."
The Keynote Addresses were followed by the series of Panel Discussions on the Topics like, Technology Aggregators: Enablers of
Organizing Highly Inefficient Unorganized
Sector, Blockchain for Citizen's Good, Emerging Tech: Changing the Marketing Landscape and many more.
Rajan Anandan, Chairman, IAMAI & Vice President, South East Asia and India, Google
in conversation with Sairee Chahal, CEO & Founder, SHEROES discussed about the self-regulation which aims to protect the creative freedom of content creators and encourage consumer choices.
Speaking to Ten News Exclusively, Abhiraj Bhal, Co-Founder, UrbanClap, said,
"I'm very very impressed with the India Digital Summit. It's becoming one Major Summit's of our times. The quality of people, the quality of interactions, Quality of Speakers it speaks for itself. Kudos to IAMAI in and i look forward to attend next year as well."
Yashish Dahiya, Co-Founder & CEO, PolicyBazaar, Talking about Ayushman Bharat Scheme said,
"Ayushman bharat is a great thing and much needed thing. The point i'm trying to make is there is large middle class who don't have social security for the rights reasons and who need to wake up and do their own insurance cover. I will give you a example supposingly if government is giving you houses that doesn't mean you should not buy houses. The point i'm making is no doubt government is providing insurance coverage to people who are below certain income but what about Middle Classes."
Kunal Shah, Founder: CRED, FreeCharge, Commenting on future of digital Wallets said,
"Payments are evolving a lot what we going to see is more and more methods of payment coming. Probably the best in fracture of Payments is in India right now. In terms of future i see consumers trust their phone more we gonna see more and more payments shifting digital."
Vishpala Reddy, Regional HR Director –APAC, Uber Speaking to Ten News said,
"The summit is great because i feel it is a Melting point of different minds we have such young minds in the audience as well and the accomplished speakers and i had the opportunity to be part of one of the panel today. I think technology in digital space and mobile space it is super incredibly important prospect for India as a country overall."
Kanchi Chawla, VP – Human Resources, IXIGO said,
"It's a very well organized Summit. The topic which have been picked up are more futuristic and its a great set of panelist and speakers attending the sessions and very energetic audiences, so overall it's a amazing experience."
Sairee Chahal, CEO & Founder, SHEROES, Speaking to Ten News said,
"This summit is iconic because one we have been part of it for so many years. Well if you are in Indian Internet ecosystem you have to be here. I think it's a great opportunity we have to be very original in our thinking and we should be very execution focused. We are in good place, we have to make most out of it."
The Two Day Summit Concluded with the
India Digital Awards which recognized and rewarded organizations, teams and practitioners who have surpassed landmarks and delivered successful business outcomes using digital as a medium.
Where Filmmaker Karan johar won the 'Social Media Person of the Year'.Aruna Sundararajan, Secretary , Department of Telecommunication, Ministry of Communication won The Digital Woman of the Year. President, IAMAI Dr Subho Ray presented the prestigious award.
Aruna Sundararajan, Chariman DCC & Secretary (T), DoT after Winning Digital Woman of the year, said,
"The kind of innovation which is happening in whole digital space. Be infrastructure, be it startups there is bright future ahead. We all know that future will be more and more data but it will be more connectivity as well. 5G is almost here. 5G is not all about thousand times more speed or more data. People are looking for Paradigm shift and it will be bring more opportunities who are working in digital platforms."
//tennews.in/video-highlights-of-iamai-13th-india-digital-summit/
//tennews.in/photo-highlights-of-iamai-13th-india-digital-summit/
//tennews.in/photo-highlights-of-iamai-9th-india-digital-awards/
//tennews.in/a-special-news-report-on-13th-india-digital-summit-by-iamai-day-1/