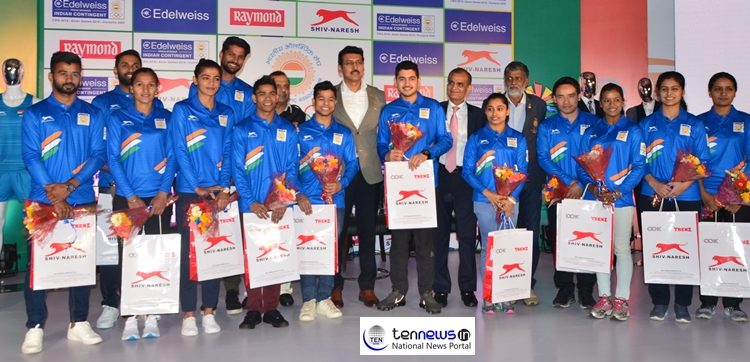 Olympic Association announces Rs 50 lakh life insurance cover to Indian athletes participating in Commonwealth 2018
KASHIF HASNAIN (PHOTO/VIDEO BY SAURABH SHRIVASTAVA)
New Delhi: Union Minister of Youth Affairs and Sports, Raiyavardhan Singh Rathore said on Monday that Indian athletes, representing India at the Commonwealth Games 2018 will get the life insurance cover of Rs 50 lakh each.
He said, in a bid to make athletes safe and provide training and better facilities the Olympic Association of India has collaborated with private firms to boost the sports in India."

He further said, "It is a good move that private firms are coming forward to promote sports in India and such tie ups will change the makeover of sports in India."

While advising the athletes Union Minister Rathore said, "You are the brand ambassador of your country, play with pride and win with pride but don't just aim to win at any cost. Discipline is the key of sports and you should hold it tightly."

Olympic Association of India has done tie up's with Edelsweiss Group, Raymond and Shiv Naresh sports. The IOA today announced Edelweiss Financial Services Limited, India's leading diversified financial services company, as sponsor of the Indian contingent for 2018 Commonwealth Games 2018, 2018 Asian Games and 2020 Olympic Games as well as National Games 2018 and 2019.

In the press conference in Delhi today the association also announced Raymond as its official styling partner and Shiv Naresh Sports as Its official sports apparel partner for the Commonwealth Games to be held in Gold Coast from 4-15 April 2018.
Edelweiss Takio Life Insurance offers a Life Insurance cover of Rs 50 Lakhs for each athlete representing India at the 2018 Common Wealth Games.
Following the event, Union Minister Rathore accompanied with OAI, General Secretary, Rajeev Mehta and President Narinder Dhruv Batra also unveiled the official ceremonial attire and official sports apparel of the athletes.

Later, minister also handed over the sports kit to some athletes such as HS Prannoy (Badminton) Mehuli Ghosh (Shooting), Anuraj Singh (Shooting), Manpreet Singh (Captain, Indian Men's Hockey Team), Rani Rampal (Captain, Indian Women Hockey Team), Rupinder Pal Singh (Hockey), Savita Punia (Hockey), Deepa Karmaker (Gymnastics), Mohd Bobby (Gymnastics), Gaurav Kumar (Gymnastics) and Pranita Das (Gymnastics).