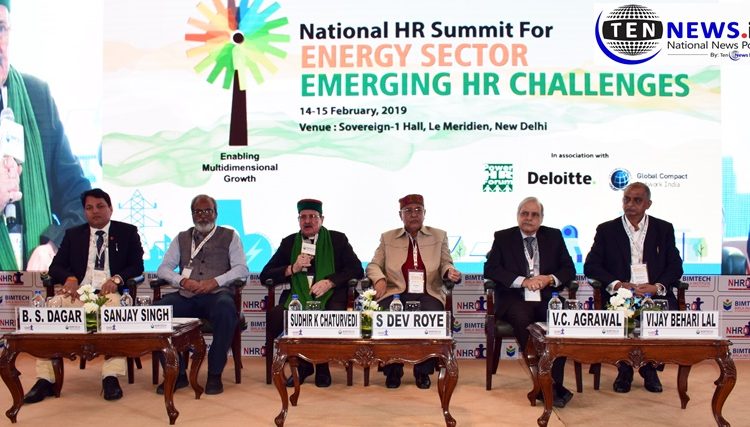 The second day of National HR Summit for Energy Sector Emerging HR challenges witnessed discussions and deliberations on a number of key topics concerning the industry.



While the first session discussed about Employee relationship and engagement, the second session was about future innovations.
The panel discussion on Future strategy for innovation- Role of HR witnessed highly informative discussion by industry and academia stalwarts.
SV Nathan, Partner and Chief Talent Officer, Deloitte India was the moderator for the session.
Nathan begin the session by sharing brief details of the topic at hand and said, "The energy sector is very different and the transformation is very incredible. It impacts our lives on day to day basis. The sector itself is undergoing tremendous. The job demands physical resilience, agility, mental power and much more. The Indian energy sector has been traditional and today there is huge challenge to attract and retain this talent."

Nathan first query to the panelists about the current situation in which On one hand the energy sector is growing but there is shortage of labour and what can institutions do to bridge this gap.

Replying to which TERI University Vice-chancellor Dr. Leena Srivastava said, "I would strongly recommend that the corporate sector does lot more towards training at the academic level so that we can bring more change in the sector."

Naresh Pinisetti, Group Presudent- HR, Deepak Fertilizers and Petrochemicals said, "I have worked with a European major which is into renewable energy sector. It has been predicted that by 2030 the solar power will become nearly free and the energy will virtually become much cheaper. The world could look much different 15 years down the line.

BSES Yamuna Power limited CEO PR Kumar added, "I agree that lot of automation is taking place and this is necessity as well. On the distribution also the last 10 years have been about automation. Speedy response is only possible through automation. We have a heterogeneous consumer base as there are also consumer who are not digitally literate. Today about 92% payment in distribution utility is coming in non-cash form."
"About 6-7 years the Delhi power distribution system was transferred from a government entity to private sector. The biggest challenge was that there was no IT system and huge efforts went into retooling and training", he added.
Rajeev Bhadauria, Managing Partner, Ebullient and former Director- Group HR, Jindal Steel and Power said, " We are in a situation where the future has already arrived. Skilling means one has to broaden the regime of thinking. Skilling people for today and future are both different issues. Energy was the prime driver of first industrialisation and more. Unskilling and skilling people for the future is very significant."
Design Think Evangelist and BIMTECH Professor Sunil Sangra said, "If we talk about innovation, it is all about creating new values. Every person in an organisation has something to contribute towards innovation."
VK Singh, Secretary of Power HR Forum added, " We are training almost 5000 youth every year. I realise that something you had learn cannot be unlearned. We need to create an ecosystem where innovation thrives. Only way to innovate is to have right people, have them free and allow them to fail, learn and succeed. There had been ideas which was resisted by our own people but it changes with time. HR is largely responsible for the culture of innovation.