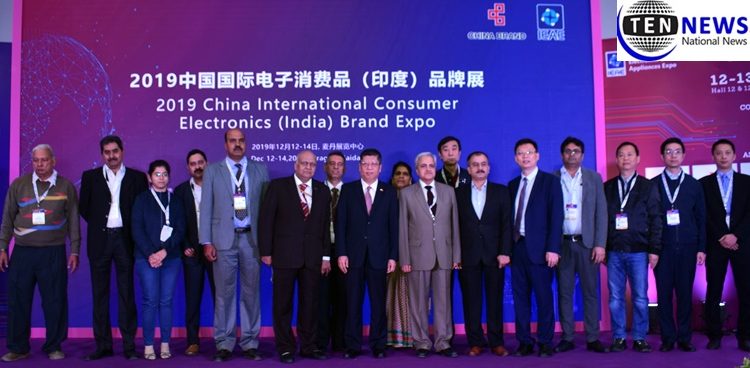 3 day India International Electronics & Smart Appliances Exhibition begins at Pragati Maidan
Saurabh Kumar/Lokesh Goswami Tennews New Delhi :
New Delhi: The 2nd edition of India International Electronics & Smart Appliances Exhibition 2019 (IEAE), raised it's curtains on December 12, 2019 at Pragati Maidan in New Delhi. The mega expo is a mega event for manufacturers, suppliers, buyers and sellers in TV, electronics, mobile phones, household items and electric decorative items.
Organised by Ikonic Exhibition & Conferences, IEAE 2019 is one of the largest consumer electronics & smart home appliances & automation event in India. The three-day IEAE Expo is being supported by the National Small Industries Corporation (NSIC), Government of India. The event is also being supported by the leading associations like All India Electronics Association (AIEA), Communication Multimedia & Infrastructure Association of India (CMAI) etc. The event got inugrated in the pressence of all the dignitaries.
Apart from tremendous participation from China and Support being provided by the CECC, the IEAE 2019 witnessing large participation from African nations. Sunanda Rajendran, Secretary General, Indo African Chambers of Commerce & Industries felicitated a delegation of African Dignitaries & Delegates from over 40 African countries.
Intreacting with media she detailed about the expo and said "The expo is spread over 6700 sq ft with five featured pavilions, the Expo can accommodate over 200 brands to showcase their products and services. It's perfect platform to engage with 7,000+ B2B Buyers and it is an ideal launchpad for the latest products/services, where Next-Generation innovations are getting introduced to the Indian market."
The event has several product categories such as Consumer Electronics and Audio (Mobile phone and Accessories, Computer Accessories, Digital Devices, Speaker & Sound Box, Professional Audio, Home Theatre System, karaoke player and microphone, Home Appliance and Lighting.