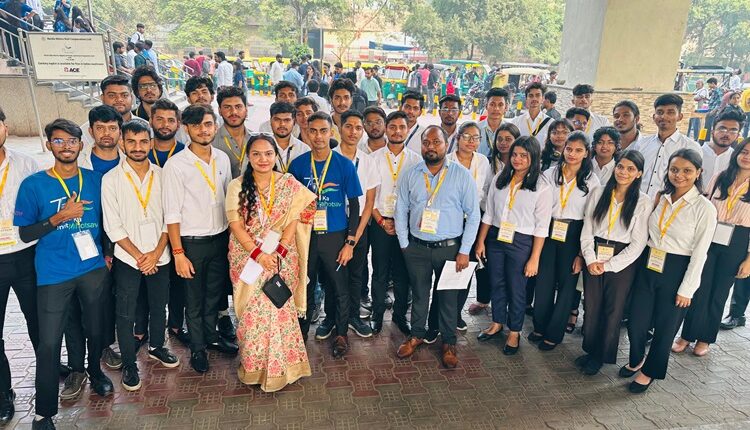 400 students from NSS unit of Galgotias University attend concluding program of Meri Mati Mera Desh

The students and faculty at Galgotias University watched the live telecast of the conclusion of the program "Meri Maati Mera Desh" between 5-6 pm, today.
The Amrit Mahotsav of Independence concluded today. As a part of this campaign, soil from 600,000 villages was collected and placed in the Amrit Vatika. A heartfelt tribute was paid to the martyrs at the Amrit Mahotsav Memorial and a pledge was taken for the development of the country On the National Unity Day. 25,000 Kalash Yatras from all over the country reached Delhi, representing the cultural pride and self-reliance of the nation.
The program was concluded by the Prime Minister through live telecast from "Kartavya Path" in New Delhi. Pranjali Mishra, Coordinator of NSS Coordination Committee at Galgotias University, mentioned that approximately 400 NSS students from Galgotias University have directly participated in this program.
Sunil Galgotia, Chancellor of Galgotias University, expressed his admiration for the nationwide "Meri Maati Mera Desh" campaign. He emphasized that the campaign was to honor the brave martyrs who have made the supreme sacrifice by sacrificing their lives for safeguarding our country.
Dr. Dhruv Galgotias, CEO of Galgotias University, mentioned that such programs play a significant role in inculcating a sense of patriotism and unity among people. These programs also help to instil values like selflessness, service and responsible care of the natural environment.
Aradhana Galgotias, Director Operations, Galgotias University, expressed her heartfelt admiration for the Prime Minister and mentioned that events like such are a way of showing appreciation for the sacrifices made by the members of our armed forces.