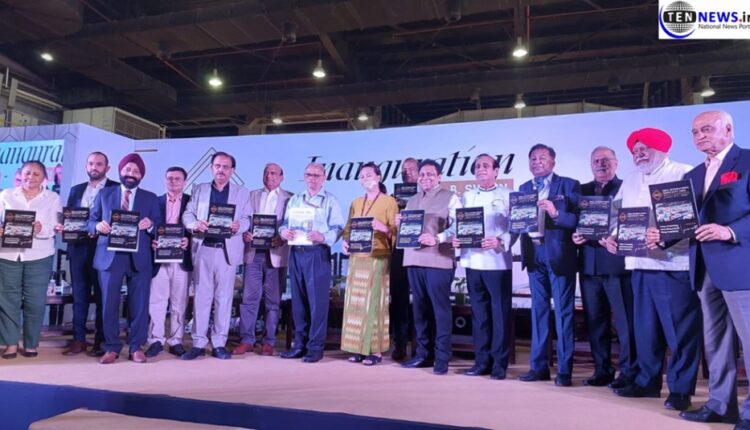 5th India International Hospitality (IHE) Expo concludes, brings much needed respite to the industry
Ten News Network

Greater Noida (05/08/2022): The curtains came down on the fifth-anniversary edition of the India International Hospitality Expo (IHE2022), one of the country's most sought-after trade shows, on Saturday, August 6, with the announcement of the dates for next year's event. IHE2023 will be held on August 2-5, 2023, at the India Expo Mart & Centre, Greater Noida. About 400 vendors of food service and hospitality products spread over 30,000 square metres of exhibition space attended the four-day event, which also featured an industry conclave, masterclasses and competitions.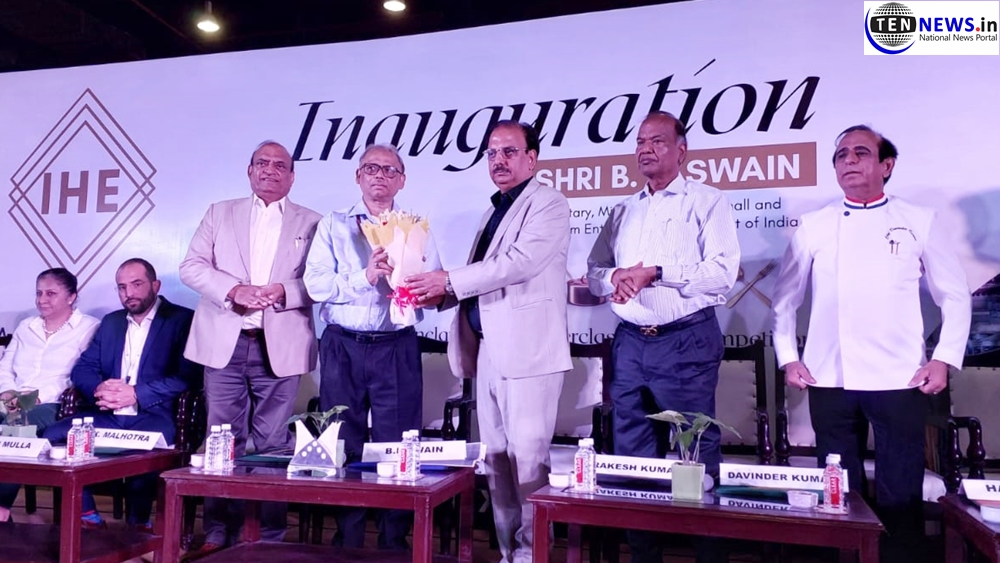 Speaking to the media on the concluding day, Rakesh Kumar, Chairman, India Exposition Mart Limited (IEML), said IHE2022 had demonstrated that India can become a sourcing hub for the global industry, offering an array of sustainable products developed by our MSMEs. "IHE has emerged as the showcase for indigenous products developed by the local industry to compete in the global marketplace. And the fifth-anniversary show was a celebration of the industry's revival."
Earlier, speaking at the inauguration on August 3, Mr B.B. Swain, Secretary, Ministry of MSME, Government of India, announced that on the previous day, India had achieved the milestone of 1 crore MSME registrations, "out of which 20 per cent belong to hotels or hospitality". It is precisely this sector that the IHE offers a platform for networking and business promotion. IHE, in fact, benefited from the support extended to the exhibitors by the MSME Ministry, One District One Product (ODOP) programme of the Government of Uttar Pradesh, National Small Industries Corporation (NSIC), and the Export Promotion Council for Handicrafts (EPCH).
Offering an industry perspective, Mr Sharad Upadhyay, General Manager, Crowne Plaza, Greater Noida, said: "Platforms such as the IHE create a synergy by bringing together all the hospitality stakeholders. Events like these have the potential to drive innovation." Exuding optimism, Mr Ajay Khanna, CEO, Eagle Forgings, a leading vendor of hospitality industry-relevant equipment, said: "B2B shows that are so professionally run like IHE will continue to grow and do well." Sharing a chef's point of view, Mr Parvinder Bali, Corporate Chef, Oberoi Centre for Learning & Development, added: "Shows such as IHE keep us in touch with each other and also with the latest global food and beverage trends."
A number of organizations and companies came forward to partner with IHE2022. These included the Spice Board of India, Clear Water, Maspar, Kohe – the makers of kitchen knives, Watergen and many more.
The food products brand, Naturin, was the sponsor of IHE Masterclasses, which saw celebrated chefs, including Mr Harpal Singh Sokhi and Mr Ajay Chopra from Mumbai, share their best-kept secrets. And two reputed academic institutions — International Institute of Hotel Management (IIHM) and Delhi Skill & Entrepreneur University – were on board as the education partners. The show was as much for hospitality and food service students, who got an opportunity to present their culinary skills at the Young Chefs Challenge organised by the Indian Culinary Forum (ICF), as it was for young professionals and stalwart decision-makers.
The show's associate partners included A.H. International Pvt. Ltd., Food Service India, Haks, Venus Industries, Loom Crafts Furniture India Pvt. Ltd., Multi Seats Pvt. Ltd., Saimex Exim Pvt. Ltd., and Sunny Overseas. The mix of partners is indicative of the range of products and services that were on display at IHE 2022 – kitchen and catering equipment, kitchenware, crockery and cutlery, food and beverage products and ingredients, furniture and furnishings, housekeeping and laundry essentials, and varied water technologies.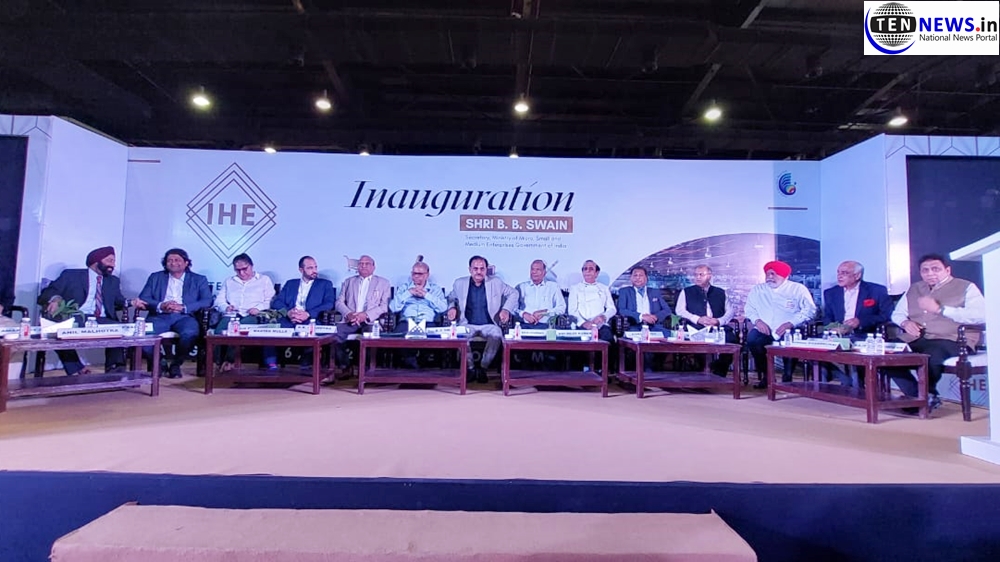 In the words of Mr Nitin Nagarale, Founder, Hospitality Purchasing Managers' Forum (HPMF): "Shows such as IHE help you get to know more about what is happening in the industry now and what is expected in the next few years. It presents products that are made in India for the global market. IHE introduces us to a world that exists beyond our imagination." Explaining why the show matters to people like him, Mr Abinash Manghani, CEO, ITC WelcomHeritage, said: "A show such as IHE helps us hoteliers to update our knowledge and upgrade our offerings, which is important because the needs of our customers have changed over the past couple of years."
One of the high points of show was the IHE Conclave, which was attended by a galaxy of industry thought leaders, such as the Sarovar Hotels and Resorts CEO, Mr Jatin Khanna; the CEO of The Claridges Hotels & Resorts, Mr Vikram Aditya Singh; the Executive Vice-President and Head of HR, ITC Hotels, Mr Sanjoy Bose; the Senior Vice President and Head of Luxury Operations, DLF Limited, Mr Girish Sehgal; The Suryaa New Delhi's Vice-President (Operations), Mr Greesh Bindra; the Indian Culinary Forum President, Chef Davinder Kumar; the President of the Indian Federation of Culinary Associations, Chef Manjit Gill; and some of the country's leading hospitality educators, notably Mr Satvir Singh (NCHMCT), Mr Arun Singh (FHRAI-IHM), Mr Abdullah Ahmed (IIHM), Dr Manohar Sajnani (Amity) and Dr Rajiv Mishra (Galgotias).
The Conclave programme also included specialist sessions devoted to digital transformation (presented by the Global Hospitality Technology Professionals); hospitality design (Institute of Indian Interior Designers); housekeeping practices (Professional Housekeepers Association); and the concerns of purchase managers (Purchasing Professionals Forum-India). And as Mr Hari Dadoo, President, IHE, put it: "In its fifth-anniversary year, IHE has established itself as being much more than an exhibition. It continues to be a knowledge fest for professionals engaged in the hospitality and food service sectors. From students of hotel management and the culinary arts to professionals in the F&B, front office, housekeeping, kitchen management, purchase and engineering departments of hotels, to owners and operators of standalone restaurants as well as QSR chains, IHE offers something of interest to everyone."
India International Hospitality Expo 2022 | Inauguration by B B Swain, IAS, Secretary, MSME, Govt of India | Photo Highlights