7th convocation organized in Sharda University, degrees given to 3099 students
Ten News Network

Greater Noida (08 October, 2023): Sharda University, located at Knowledge Park, Greno, organized its 7th convocation on Sunday. A total of 3099 students will be awarded degrees in the ceremony. In this, 2264 undergraduate degrees, 798 post graduate degrees and 37 PhD degrees will be awarded. While 6 students were given Chancellor Gold Medal, 31 Vice Chancellor Gold Medal Post Graduate, 49 Vice Chancellor Gold Medal Under Graduate, 2 students were given Dr AK Gadpayle Medal, 24 Merit Certificate PG, 81 Merit Under Graduate Certificate. Yogendra Upadhyay, Minister of Higher Education Department of UP Government, was the chief guest at the function and Gautam Buddha Nagar MP Dr. Mahesh Sharma was the special guest.
Yogendra Upadhyay, Minister of Higher Education Department of UP Government, in his address at the convocation said that just as changes are taking place in technical fields, similar changes are also being seen in the education sector and you just need to stay updated. Adopt new ideas, be ready for new learning. Always take interest in new areas which will increase your knowledge. Apart from this, students should have some information about their course as well as other courses. The purpose of education is not to obtain a degree but the overall development of the individual. The students who have got the degree should work to make the country a world leader. In future, use the information on higher education and new technology for the benefit of the country. Sharda Group is working on education as a mission.
In the function, MP Dr. Mahesh Sharma said that in life, teachers are the only ones who want you to be better than yourself. After taking the degree, you should focus on what you can give to your country and society. Some people make footprints and some walk on the footprints, people praise those who make footprints. Opportunities should be found in adverse circumstances. If your goal in life is to do something different, to do something new, then the world will kiss your feet. Sharda University is not a degree granting institution but an institution imparting knowledge and education.
Addressing the students, Sharda University Chancellor PK Gupta said that in today's time, innovation is an important part of every field, and this is the reason why the foundation of the country depends on innovation. Innovation leads to technological development due to which cities also move towards change. He said that science is a field which can make the country a leader in the future.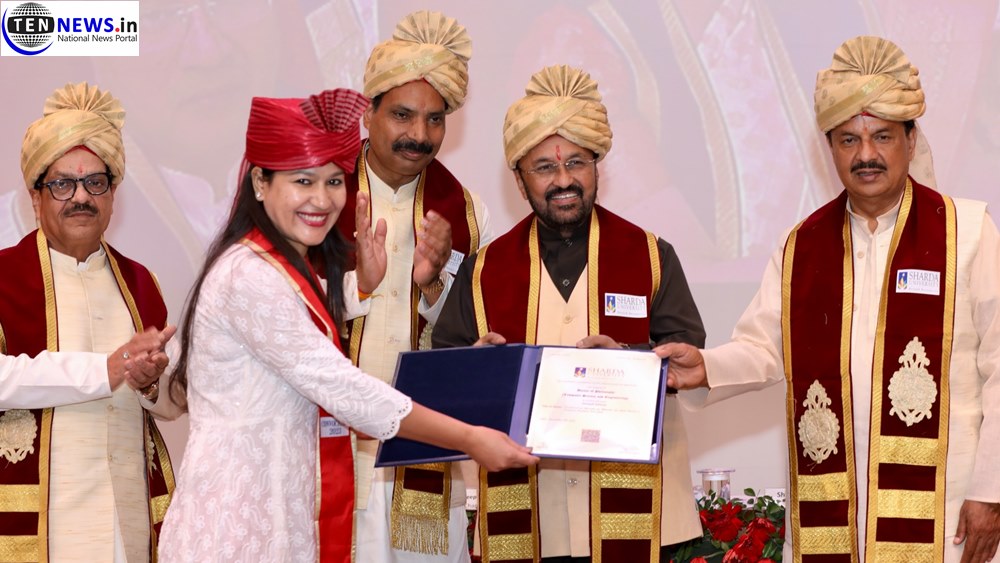 While giving advice to the students, PK Gupta said that success is achieved only when you can understand the problems and find solutions to them. Do every work with enthusiasm and honesty and respect your country.
During this, University's Pro Chancellor YK Gupta, Vice Chancellor Dr. Sibaram Khara, Pro Vice Chancellor Parmanand, Dean Academic Dr. Jayanti Ranjan, Registrar Vivek Kumar Gupta, Director PR Dr. Ajit Kumar, MS AK Gadpayale of Sharda Hospital, HODs and Deans of various departments were present.