Photos highlights of 7th HRM Summit Day-2 by NHRDN
Video highlights of 7th HRM Summit Day-2 by NHRDN
New Delhi : 16/11/2019 : The 7th HRM summit on 'Organizational Excellence: Talent, Technology, and Happiness And Well-Being' concluded today in Leela Ambience at Gurugram.
The summit which was organized by National HRD Network (NHRDN) followed up on yesterday's deliberations which were full of insights, knowledge and experiences shared by thought leaders in the HR industry.
The second day of the 7th HRM Summit showcased the same level of knowledge sharing and interaction as the first day with 3 keynote speeches and 1 panel discussion by eminent personalities.
The day started with a special address by Dr. Adil Malia, Former HR head at Essar Group and CEO 'The Firm' on 'Happiness and the organizational excellence: Integrating happiness at workplace and business outcomes'.
Dr. Malia begin his address with a shayari and explained how people can keep themselves happy with an example of a story.
He said "Human beings are a bag full of emotions, and therefore if you do not positively engage them or you do not design authentic programs for them you will not able to connect with them."
Later he talked about the standard model of motivation and also explained what emotion is. He said "It's a very important aspect but we were not taught about it in our school and institutions we come from. If we don't understand the emotions of a person then how we will able to boost his or her performance."
Dr. Malia's speech was followed by the first panel discussion on "Happiness, Harmony & Well Being in the era of digital disruption." which was led by Dr. V P Singh, Advisor & Professor – Jaipuria & Ex-Advisor – Patanjali.
The discussion was very interactive throughout where the moderator frequently came back to the gathering for their views and queries.
The Panel discussion begin with the panelists sharing their definition of Happiness which garnered variety of opinions. Later on the focus shifted on whether the technology is taking away the happiness from people's life.
This again witnessed diversity of opinions, as on the one hand side, one panelist shared some data related to human connection with technology, a fact he shared was that a normal human being touches his cell phone for around 2600 times in a day and spends around 4 hours each day with his / her cellphone.
On the other hand side, another panelist talked about how technology can bring happiness in one's life with the availability of apps which boosts productivity or the meditation apps.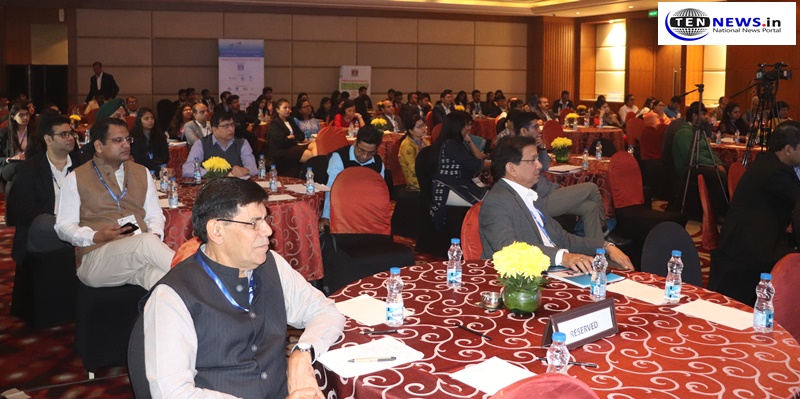 While sharing his thoughts on happiness, Shailendra Sharma, Principal Advisor to the Director of Education, Delhi Government shared how the Delhi government is working to create a environment of happiness in the schools and getting a very positive response for the same. He said we introduced happiness curriculum in 2018 as a major education reform, the goal of happiness curriculum is to enable children to become more mindful or self-aware. This curriculum is applicable in 1000 government schools in Delhi reaching 8,00,000 students in total."
Further he added "The feedback we got is amazing, the grades have improved, children have learnt to focus on studies, person conflict has reduced, and in the second shift the truancy has dropped to a great extent."
The session came to end with the closing remarks of the moderator who advised the gathering to take an assessment on a particular website that he shared to learn one's shortcomings. The moderator then ended up the session with a beautiful hindi poem.
The panel discussion was followed by the 2nd Special address of the day which was delivered by Mr. S Y Siddiqui, Executive advisor at Maruti Suzuki India. In his special address, Mr. Siddiqui shared how Maruti takes care of their employees well-being. He said "Maruti look after the complete well-being of their employees, whether it is health, work, or financial. I think Maruti is the only private organization that had created a separate welfare fund for its employees who will benefit them post retirement.
Further he added "The two things that drives happiness are aspiration of learning and dignity for every one in the organization. So, in Maruti we have same respect for the shop floor guy and the director."
Mr. Siddiqui's session was followed by tea break which was followed up by a unique session 'Ru-ba-ru' which was just the opposite of a panel discussion. "In a Panel discussion, the panelists get to speak for 90% of the time whereas the audience gets only 10% time to share their views or to shoot any question. But in the case of 'Ru-ba-ru" session, 90% time is for audience to discuss and 10% time is for moderators,' explained Prem Singh, Summit Director.
The 'Ru-ba-ru' session was divided into 5-6 teams who were assigned the topics they chose a day before. The five topics were Technology, Talent, Wellness, 'Competency – Culture and Value', and last was engagement. For first 30 minutes, each team having more than 10 HR thought leaders / professional and students shared their views on their respective topic. At last, few members from each group summed up the best points raised in their respective group with other groups.
The session was followed up by lunch where Ten News team interacted with few panelists as well 2 students from New Institute of Management.
Marlise Karalin, Founder Director SOS method USA delivered special address on 'happiness, well-being, success ; simple effective tools for your professional and personal life' said " Stress is the epidemic of 21st century that is affecting most of us life's. We restrict ourselves just with the physical health but ne need to take care of mental health as well."
She went on to talk about how meditation can come in handy in achieving a better mental health. Latter she also gave a live demonstration of the 5 minute SOS meditation after which people in the audience shared their experience with her.
At the end of the summit, Ten News interacted with Dhananjay Singh, Director General of National HRD Network. Mr. Singh talked about the outcomes of the summit and said "The two day summit was successful as we had a great discussion over the theme. We will compile all the outcomes of the discussion and will present it to all our partners that includes government too."