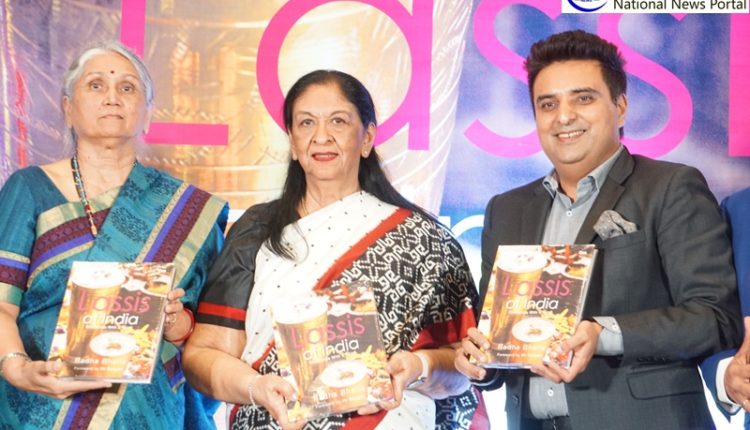 New Delhi, (4/12/2018): There is nothing more sublime than Lassi on a hot day! It is a staple drink that accompanies our culturally diversified Indian cuisine and is full of therapeutic properties too. This makes it fit for having a glass of Lassi even in winters. To reveal the promising health benefits of Lassi, Mrs. Radha Bhatia, Chairperson, Bird Group, along with Ajay Mago and Sanjay Mago of Om Books International, the publisher of this book, today unveiled "Lassis of India – Smoothies with a Twist.
"Lassis of India – Smoothies with a Twist" is not only a book, it is a grandmother's labour of love. It is an attempt by Mrs Radha Bhatia to span five generations of stories, wisdom and recipes – starting from her own grandmother and reaching out to her own grandchildren.
Some of the guests who attended the book launch were Ms. Mridula Pradhan, Manju Singh, Dr. Shobha Vijender Gupta, Mr Ajay Mago, Publisher, Om Book International, Mr. Ssumier S Pasricha (Pammi Aunty), Actor, Ms. Neelam Pratap Rudy, Acharya Vijay Bhatia, Dr. Shikha Sharma, Mr. Rajiv N Choubey, Secretary Minister of Civil Aviation, Gov. of India, Osama Jalali, Food Critic and Ms. Ishi Khosla, Lata Kelkar.
"The idea of writing a book on Lassis occurred to me when I realized that in today's fast paced and hectic life, a healthy lifestyle and eating habits was a universal concern. Almost everything available for ready consumption today is processed, full of artificial flavours, colours and preservatives. And our age-old elixirs like Lassi have been almost relegated into obscurity. These tasty and healthy beverages, consumed over centuries in many different avatars across various parts of the country, are natural and full of ingredients with tremendous health benefits" said Radha Bhatia, author of the book & chairperson Bird Group.
Sharing his unique idea about Lassi, editorial director HT Vir Sanghvi who has done extensive research on fondness for yogurt and in different countries said "Dahi has an inexplicable cooling effect. It cools the body, no matter how hot the summer is. It is versatile. It can be used to make cool drinks and desserts. Even in winters dahi can be used to make marinade or for cooking. One common and most popular way of consuming dahi is to make Lassi from it. Even though India has a grand tradition of yogurt drinks, there is a need to talk about the Indian romance with yoghurt and more specifically, have books on it. This book is a delightful attempt to redress that balance with wonderful recipes and great photos."
Lassis of India is a compilation of 17 traditional recipes from various states blending with the local food and climate.  The balance 57 are lassis with a twist – prepared with herbs, fruits and nuts which would attract the younger generation. The recipes ranging from 'Meethi Lassi' of Punjab to 'Talicha More' of Tamil Nadu – each with unique taste and health benefits are prepared, served and relished by Roseate Hotels guests. All the recipes in the book are simple and intended for the home cook.
Churned out of yogurt or dahi, lassi is very beneficial for the digestive system. It is light on the stomach and contains healthy bacteria that aid in smooth digestion. One common way of consuming dahi was to make a drink with it. This was a uniquely Indian invention. In Gujarat, most meals are accompanied by chhaas which is savoury. In the North, sweet lassi is popular and in the South savoury milk drinks are common. Even the westerners are fond of Lassi, as depicted in the popular nursery rhyme about Miss Muffet.
About the Author
A successful entrepreneur running multifaceted businesses is just one of the many roles that Mrs Radha Bhatia has been juggling with for decades. A wife, mother, grandmother, champion of women empowerment, she's also an accomplished cook. Being from a generation that has seen bigger changes than any other, she has managed to embrace the new without feeling the need to let go all that is good of the old. So, she's equally at ease looking up recipes on her iPad as she is preparing them in the 'handi' her grandmother presented her when she first began cooking 65 years ago. This book is a result of her passion for cooking, concern for health of her loved ones, and the urge to pass on some of the good things she grew up enjoying.
Ajay Mago, Publisher, Om Books International, said "Over lunch, Radha Bhatia said she wanted to do a book on Lassis, a very small book that would preserve an important component of our culinary heritage and culture. The native cooler was consumed across most of India in local variations, and had cousins beyond its shores too in other countries.
A great raconteur, Radha Bhatia went on to recount her personal journeys that led to her discovery of some of these variations. And that did it! Not a very small book; it would be a full-fledged book on Lassis of India, with traditional variations and modern avatars. And now that Lassis of India is here, wine-tasting has just acquired stiff competition."