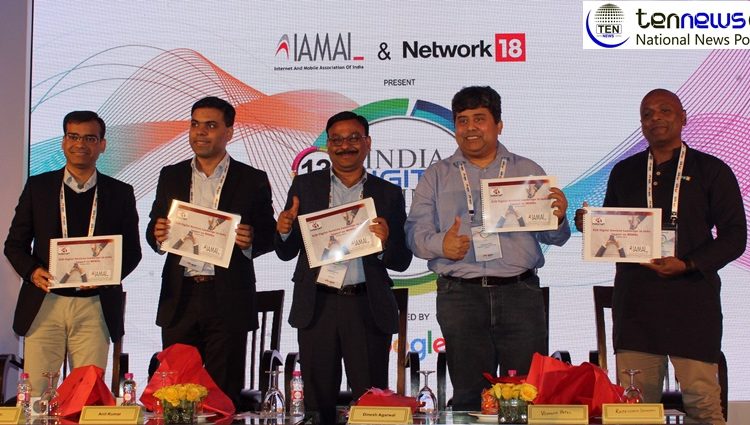 A special news report on 13th India Digital Summit by IAMAI – Day 1
Prerit Chauhan (Photo/Video) By Lokesh Goswami Ten News Delhi :
New Delhi: IAMAI organised it's Two Day flagship annual event India Digital Summit. In its 13th chapter, the event will provide a platform to discuss topics including marketing, technology, startups, mobile and other digital trends.
The India Digital Summit will cover areas like value added services, m-commerce, payment and networking, crucial issues relevant to the use and application of various digital media viz, the web, mobile, social media, etc. for the efficient positioning, placement, and promotion of Brands and their products and many more.
This year, the two day summit is expecting a footfall of more than 1600 delegates from senior and mid-level management across diverse industry backgrounds such as cloud, ecommerce, travel, technology, mobile and internet. Further, the executives and digital experts from FMCG and BFSI brands and payment regulators will also be participating in this summit.
The India digital Summit 2019 Day – 1 started off with the launch of report on MSMEs, B2B digital services by IAMAI and India Mart. Which was followed by keynote Addresses and Panel Discussions.

Dinesh Agarwal, Founder & CEO, Indiamart in his Keynote Address said that, "This is 13th Indian Digital Summit and it is not the first time we are opening the Summit by B2B topic. We have seen B2B and SME are utilized and targeted by different companies but haven't measured how much impact they have on the society and the industry. How digital adoption of B2B and SME can impact the industry and help the industry to grow. Indian Digital Summit. Digital adoption is a must."

Anil Kumar, Chief Executive Officer, RedSeer Consulting in his address said,
"if i talk about 2019 likely to see the emergence and growth of multichannel EdTech delivery models, as RedSeer research indicates a strong need state for hybrid learning.2019 likely to see maturing of the multichannel strategies of e-tailers, which will drive next wave of customer adoption. India's e-Logistics market expected to nearly quadruple by CY22 on the back of rapid e-tailing growth."

The Keynote Addresses were followed by Panel discussion on Positive Impact
Of B2B Digital Services on MSMEs and small Scale Producers / Services Providers. The Panel Discussion saw the participation of Dinesh Agarwal, Founder and CEO, Indiamart, Vishwas Patel, Chairman, Payments Council of India & Director, Infibeam Avenues, Aloj Mittal, Co-founder & CEO, Indifi and Rajendran Dandapani, Business, Solutions Evangelist, Zoho Corporation.
At the Summit IAMA also released a code of self regulation for OTT platforms.
Online Curated Content Providers (OCCPs) including Hotstar, Voot, Zee5, Arre, SonyLIV, ALT Balaji, Netflixand Eros Now have signed a self-regulatory Code of Best Practices under the aegis of the Internet and Mobile Association of India IAMAI.
Speaking to Ten News Dinesh Agarwal, Founder & CEO, Indiamart praising PM Narendra Modi's Digital Campaign said, "Last year five years has been incredible.GST has been implemented completely Now it is one nation one tax. They have acted very swiftly in order to reduce 28% tax regime to 18 % tax regime. Some of the parts demonetisation can be a forceful adoption of digital india so online payment has been going very good."

Vishwas Patel,Director,Infibeam Avenues Talks about 5 Years of Modi Govt said,
" For the growth of public-oriented digitalization of the country system, this summit initiates innovation improve the existing standards. This conference is the right platform to exchange ideas.
The Overall growth has been phenomenal and it comes from the leadership of the country by Prime Minister Narendra Modi. Now we see so many government organizations and so many utilities adopting and allowing consumers to pay online and putting it on their website."

Neeraj Roy,CEO Hungama Media Welcomeing Netflix,Hotstar & Other OTT Platforms to Self-Regulate Content, said,
"I think it is extremely appropriate, i believe the nation diverse as us with multiple cultures. We do not have some sought of free ticket any form of content programming. So it well workerd upon for both from the industry and the regulators."

Vijay Shekhar Sharma, CEO & founder Paytm Speaking to Ten News about 13th Digital India Summit said,
"This is the longest running Summit in the entire country and the brand name internet and mobile association 10 years back has a vision to build platform for mobile and internet is really huge and it remains to be continously relevant."

Deep Kalra Founder, CEO Make My Trip said,
"I'm biased because i'm the Vice Chairman of the IAMAI but I have seen it grow and year and year i have seen it grow. So this year the kind of program put together i feel it's a very good mix of inspirational Keynotes but than it has very good tracks which you can go deep and go into very relevant subjects."
//tennews.in/video-highlights-of-iamai-13th-india-digital-summit/
//tennews.in/photo-highlights-of-iamai-13th-india-digital-summit/
//tennews.in/photo-highlights-of-iamai-9th-india-digital-awards/