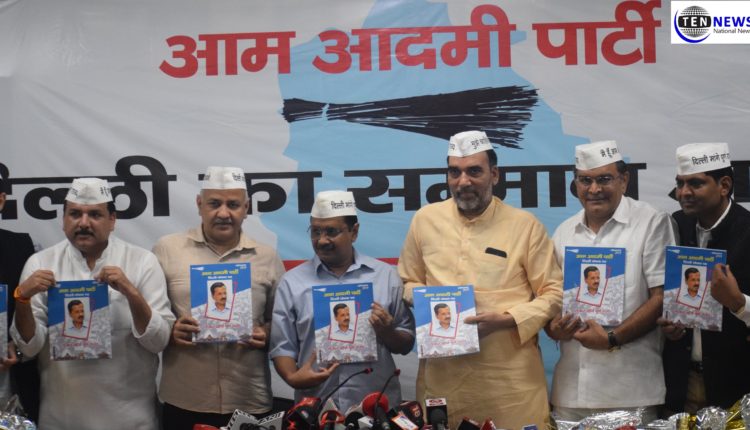 Aam Aadmi Party releases its Manifesto for Lok Sabha Elections 2019, stressed upon winning Full Statehood for Delhi
Talib Khan / Rahul Jha
New Delhi, (25/4/2019): The Aam Aadmi Party today, released their manifesto for the Lok Sabha polls. AAP chief Arvind Kejriwal and Deputy CM Manish Sisodia were present at the release, along with other senior party leaders.
The main theme of Aam Admi Party's manifesto is winning full statehood for Delhi.
Speaking at the release of the manifesto, AAP chief Kejriwal said that "The 2019 Lok Sabha polls is not just about one party's manifesto and the issues it raised, but about the future of the country".
"The 2019 elections is a turning point for India. This election is to save India's people and the rich culture. This election is to save the democracy and constitution of our nation," Kejriwal added.
"Amit Shah had said that all infiltrators except Buddhists, Hindus and Sikhs will be thrown out. Will Muslims, Jains and Christians be mob-lynched or thrown in the ocean? The BJP is fulfilling Pakistan's agenda because even Pakistan wants to divide our country," he said.
The first agenda of the Aam Admi Party is to break the Amit Shah- Narendra Modi duo and to prevent them from forming the government again, adding that AAP would support any "secular mahagathbandhan" after the general elections.
Some key points of the Aam Admi Party's manifesto are,
Making Delhi Police Accountable
Promised to improve and transform the Delhi police, "If Delhi gets full statehood, AAP will fill two-third of the vacant posts in Delhi Police," Kejriwal said.
He also said that he would make the Delhi Police accountable and answerable to the people.
Education and Employment
Kejriwal said, "that people passing 12th standard from Delhi, cannot get admissions in Universities because of lack of seats. After making Delhi a full state, we don't have to take permission from the central government to make colleges and universities. We will make enough colleges to ensure that those left out students will get admission".
Corruption, Cleanliness and Lokpal
Kejriwal said, "Neither the MCD nor the Anti Corruption Branch comes under the Delhi Government, because of which we cannot took responsibility of their working, if Delhi will become a full state, we will ensure that cleanliness of the capital of the nation should be given first priority and also we will ensure that corruption in Government institutions should stop".
Aam Aadmi Party will release their constituency wise manifesto on 1 May in which all the candidates will highlight the area specific matters.