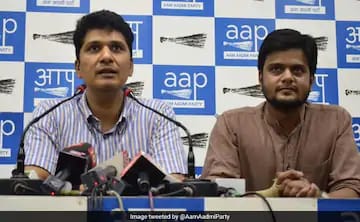 AAP MLA Saurabh Bhardwaj will conduct Sundarkand Path in his constituency every month
Vishal Malhotra/Lokesh Goswami Tennews New Delhi :
New Delhi (19/02/2020): Aam Aadmi Party (AAP) MLA from Greater Kailash, Saurabh Bhardwaj has said that to get the blessings of Lord Hanuman, he will conduct a 'Sundarkand recitation' on the first Tuesday of every month in his constituency.
During the election campaign, the BJP had criticized AAP for repeatedly visiting the Hanuman temple of Delhi by Chief Minister and AAP convenor Arvind Kejriwal. Kejriwal also recited 'Hanuman Chalisa' during a TV program earlier this month.
Bhardwaj said that booking has already been done for the scheduled programs. On this announcement, Nagendra Sharma, a former media advisor to the Delhi government, tweeted, "Disappointed to see that progressive-minded legislators get caught in an absurd trap trying to beat the BJP in its game."
Kejriwal's visit to Hanumana temple was criticized by many BJP leaders including Uttar Pradesh Chief Minister Yogi Adityanath. Adityanath had said in the election meeting, 'Now Arvind Kejriwal has started the recitation of Hanuman Chalisa. In the coming days you will see that Owaisi is doing the same. It will be sure.'
Also, Delhi BJP President Manoj Tiwari called Kejriwal a 'fake devotee'.