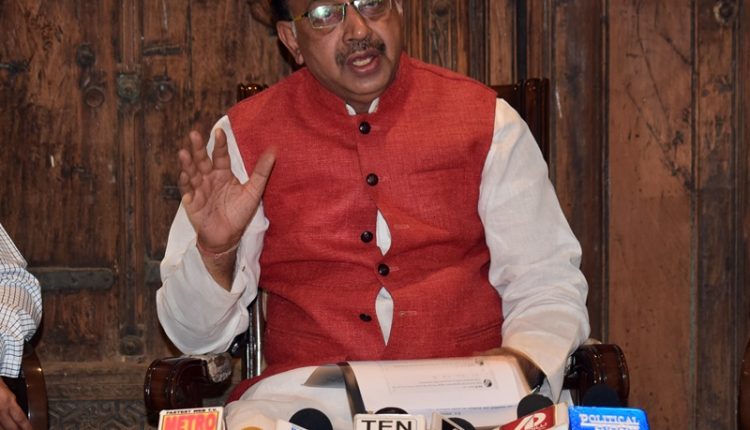 AAP Protest: Delhi Gone 30 years back due to Kejriwal Politics Says Vijay Goel
Prerit Chauhan (Photo/Video) By Lokesh Goswami Ten News Delhi :
New Delhi: After Four non-Congress Opposition chief ministers on Saturday rallied behind Chief Minister Arvind Kejriwal for his sit-in protest against Lieutenant Governor Anil Baijal.

Union Minister Vijay Goel today targeted the four non-NDA Chief Ministers for backing their Delhi counterpart Arvind Kejriwal in his ongoing rift with Lieutenant Governor of Delhi.
Criticising the decision of Ministers for extending support to Kejriwal, Goel also wrote a letter questioning as to why they did not object to the assault on Delhi Chief Secretary Anshu Prakash.
On Monday, Addressing the Media, Union Minister Vijay Goel said, "The situation created by Chief Minister Arvind Kejriwal is a huge Disappointment. This situation occurred because Kejriwal have not done anything in past 3.5 years. They have hijacked L-G House by Giving it a name of Dharna, indefinite strike etc. The fact is LG don't have any role in giving full statehood to Delhi. In 3.5 years Kejriwal have abused so many people and then Apologized. First Arun Jaitley, Nitin Gadkari, Kapil Sibbal there are so many. The import fact is AAP is telling a lie that IAS officers are on strike. I'm not telling this as a BJP Leader but i feel due to Politics done Arvind Kejriwal and AAP Government Delhi have gone 30 years back"
Criticising the decision of CM's for extending support to Kejriwal Goel Said,
"By giving extending support to Kejriwal these four Chief Ministers know what led to this crisis? Where were these people when Delhi's Chief Secretary was being humiliated and assaulted? This crisis began from there."