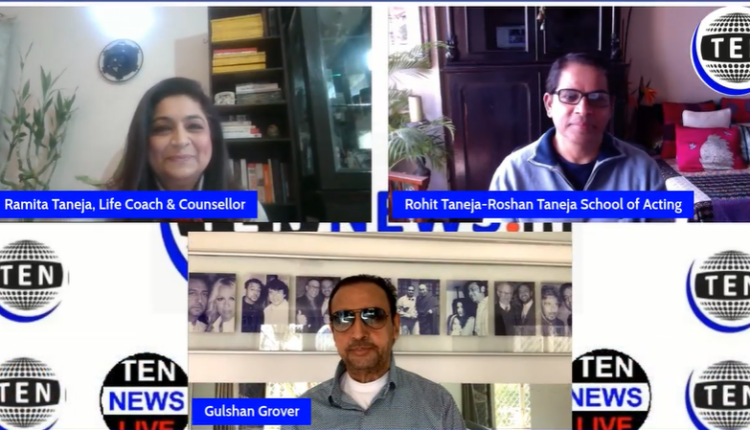 Life coach and counsellor, Ramita Taneja is well know for her inspirational and educational shows. And she recently bright two veterans from the field of acting – one actor and another an acting teacher, together for her show, kya baat hai.
Joining her was Bollywood's bad man, Gulshan Grover and also the director of Roshan Taneja School of Acting, Rohit Taneja.
Roshan Taneja School of Acting, Mumbai is a premier institute of Acting in India. The Roshan Taneja School of Acting offers acting classes with a difference that train today's actor.
Rohit Taneja, Director of Roshan Taneja School of Acting, who has been carrying on the legacy of his father and one of finest acting trainers of India, Roshan Taneja, apple about various issues related to acting and training of actors.
Ramita started by asking Rohit about whether acting can be taught?
Rohit Taneja, director Roshan Taneja School of Acting, said, "Acting can't be taught but it can definitely be learnt. So the difference in it is that there is no particular way of expressing and expressions."
So is training more important or the talent? Replying to it, Rohit said, "Talent is a prerequisite. But talent with training is like a loaded gun which someone doesn't know how to fire. So a talented person without training may not know how to channelise it. How to use the talent for one's benefit that comes with training. So for an actor, holding back is as important as letting out. Hence regulating such aspects is what comes with training".
Quizzing him about how does it feel that his acting school is referred as IITs of the acting school, Rohit said, "I made sure that I had to be well trained myself before I consider taking this forward. I actually trained under my father for five years and of course my mother also taught me. More importantly, the name has been created over the years with lot of hard work and I'm striving hard to take this forward and maintain this legacy."