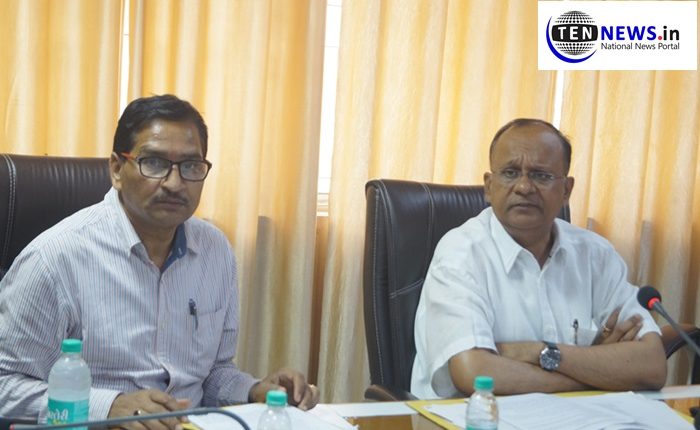 Action will be taken in school fees hike issue but complainant have to follow UP fee regulation act: DM
Saurabh Kumar / Baidyanath Halder
Greater Noida (16/04/2019) : District administration of Gautam Budhha Nagar, today made clear that action will be taken against schools in fee hike issue but the complainant has to follow the legal processe. Social organizations and public interest groups will not be allowed to take law and order in their hand by doing any kind of protest or rally. This decision came after district administration received information that some of the social organization planning a massive protest on 21 April over fees hike issue in Noida.
Briefing the media today DM B N Singh told that "If any School coming under "Uttar Pradesh self-financed independent school fee regulation act" found violating the act then definitely action will be taken against such school. But the complainant also needs to be eligible for filing the complaint as per the act and must have to follow the guidelines of the Fee Regulation Act. Otherwise, we will not allow anybody to disturb the law and order of the city ."
As per the Fee regulation act, only the student themselves, their parents or Parent-teacher association of the school only can file the complaint. First, the complainant has to approach the principal with their grievances and if within 15 days of filing the complaint action is not been taken then the complainant can approach the District Fee Regulatory Committee.
Under this act, no school can hike their fees more than 7 to 8 percent that too, after taking permission from the committee based on the consumer price index and increase in salaries of staff etc. Schools will also have to display fees on their website 60 days before the start of the academic session.
Schools would be penalized for violation of rules. A fine of Rs 1 lakh and Rs 5 lakh will be levied on schools for their first and second violations, while the school will be de-recognition in case it repeats the offens for third time.
Presenting some data DM told that "For now we have received seven complaints against different school of the region. Delhi Public School, Greater Noida while Ryan International School, Cambridge, Khaitan Public School, Billabong High International School, Kothari International School , Modern school all in Noida against whom we have received complaint."
"Now on 20th April we are calling a meeting of school representative and complainants to resolve the issue," he added.