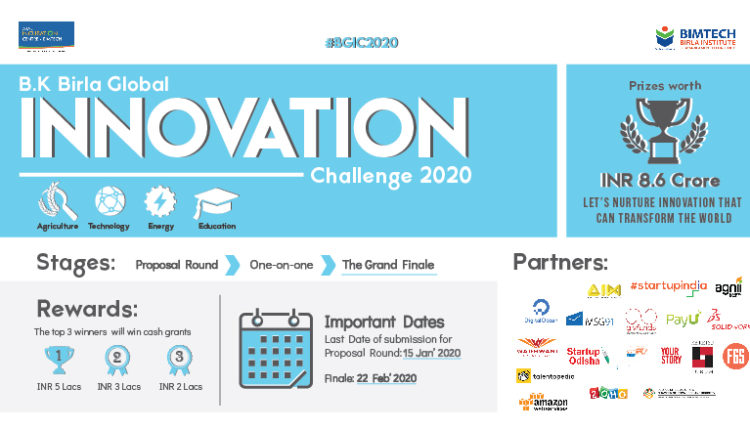 AIC-BIMTECH to foster Innovation with Birla Global Innovation Challenge 2020
Greater Noida, 10th Jan: Atal Incubation Center at Birla Institute of Management Technology, Greater Noida is organizing an Innovation Challenge named Birla Global Innovation Challenge 2020 (BGIC 2020) in the memory of Late B.K Birla.
Through this program, BIMTECH aims to encourage all new ideas that seek to provide a revolutionary solution to traditional problems in the areas of technology, education, agriculture and energy.
The program is open for all innovators who have an early-stage innovative venture (not older than three years), or a promising innovation with a plan that could create sustainable impact in India. The innovation is required to demonstrate significant impact through results or proof of concept in the second case.
The Program will be organized in 3 rounds, starting from proposal round where the candidates will have to register themselves and submit their pitch desk. The proposal round will be followed by a One-to-One round where the selected candidates will be invited for a video call for discussion on their innovation. Candidates selected in One-to-one round will go straight to the Grand Finale round where CEOs / Founders, VCs and renowned Innovators and Entrepreneurs will select the eventual winners.
The top 3 winners of the competition will win cash prizes of INR 10,00,000 in total (Winner: INR 5.00,000 | Runner-up: INR 3,00,000 | Second Runner-up: INR 2,00,000).
Important Dates:
Last Date of submission for Proposal Round: 15 January 2020
Finale: 22 February 2020