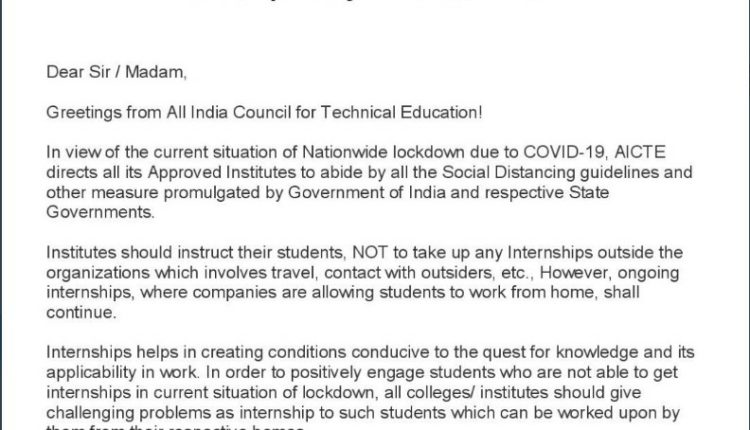 AICTE issues new guidelines, asks institutes to provide work from home internships
The All India Council for Technical Education (AICTE) has issued new internship guidelines for students and institutes amid the coronavirus pandemic.
The council asked all AICTE approved institutes that offer internships to students for respective technical courses to follow the guidelines and adhere to the council's policies.
It has also notified the institutes to follow the practice of social distancing and follow all instruction during the period of complete lockdown.
According to the official notification released by AICTE, it has asked its affiliated institutes to instruct students to not take up summer internships in other organisations or those which requires travelling outdoors.
It has asked its institutes to provide their students internships in which they can work from home.
"AICTE directs all its approved institutes to instruct students not to take up any summer internships outside organizations. Instead, colleges/institutes should give challenging problems as an internship which can be done from home," the council said.
The decision comes because of the alarming situation created by coronavirus pandemic and to encourage everyone to stay at home and maintain social distance to contain the pandemic.
However, AICTE has also asked its institutes to provide challenging assignments to the students that can be used as an alternative of internships.
"These challenging assignments should be designed in such a way that allows students to deal with and solve the problems through their respective homes," AICTE added.