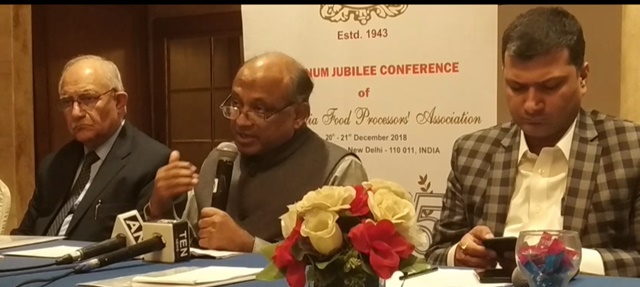 AIFPA to Complete 75 glorious years on Dec 20, Subodh Jindal announces vision for Food Processing in the country
Vishal Malhotra
New Delhi : All India Food Processors' Association (AIFPA) Est. in 1943, comprising Food Processors' Operators along with Machinery, Manufacturer, Packing Material, Logistic, Suppliers and other related stake-holders, will be completing its 75 years of its dedicated services to Food Processing Industry and holding its Platinum Jubilee Conference on 20-21 December 2018, at Vigyan Bhawan, New Delhi.
President of India, Dr. Ram Nath Kovind will be inaugurating AIFPA's Platinum Jubilee 2 Days Conference at 11.00 A.M on 20th Dec at Vigyan Bhavan, New Delhi. Harsimrat Kaur Badal, Minister for Food Processing Industry, Govt. of India would grace the occasion by her presence apart from other dignitaries.
AIFPA's Primary Objective is to lend the holistic knowledge support to the food business operators and the policy planners in the country, necessary to enable preventing the unaffordable wastage of Fresh Farm produce, by suggesting the ways and means for modernizing the post harvest management, and Promoting its processing for long term preservation and value addition, as this is the only way to save the poor Farmer from perennial economic distress resulting from the distress sale of his perishable farm produce at grossly un-remunerative sale value.
AIFPA has been a path finder for the Indian Food Processing Industry, recommending the cutting edge technologies, State-of-Art Processing and Packaging machines, efficient logistics and enabling marketing infrastructure etc.
Dr. Subodh Jindal, President All India Food Processors' Association (AIFPA) said, "AIFPA dedicates itself to boost food processing in the country by promoting efficient technologies, innovation, new product development, entrepreneurship, rationalization of laws and taxes with a mission to improve the farm economy, save wastage of perishable materials, fully utilize and add value to our natural produce, provide nourishing food to consumers, give India a leading role in the global market and ultimately strengthen the farmer, empower women and generate employment."