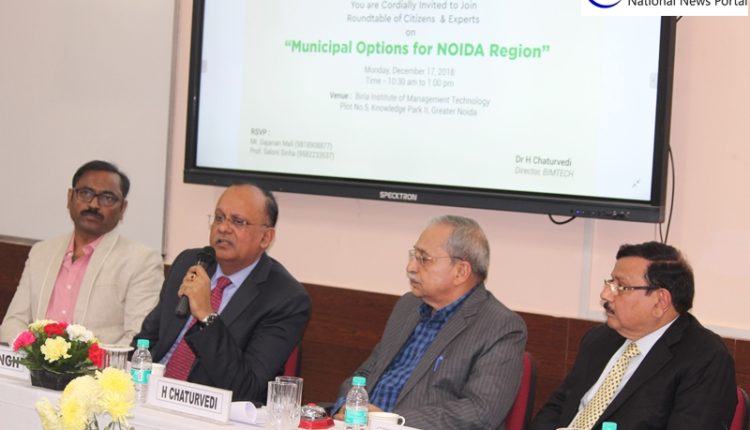 BIMTECH and Ten News Organised Roundtable of Citizens & Experts on 'Municipal Options for Noida Region'
Prerit Chauhan / Abhishek Sharma
Greater Noida, (17/12/2018): 74th Constitution Amendment Act states that every city should have its own municipal corporation, Noida is still without a municipal corporation.
On Monday, BIMTECH and Ten News Organised Round table of Citizens and Experts on 'Municipal Options for Noida Region'.
The focus of the round table was to discuss about the Need of Municipal Corporation for Noida- Greater Noida Region. The discussion session was moderated by Dr. H Chaturvedi, Director BIMTECH and chaired by DM of Gautam Budh Nagar Brajesh Narain Singh, Noida MLA, Pankaj Singh, Om Prakash Divate, Thane Municipal Deputy Commissioner, Dr KK Pandey, Professor, Urban Management Expert from IIPA and Shravan Kumar Sharma, Former Commissioner Meerut.
The event saw a turn-around of about 50 dignitaries from various organizations- Government, Civil society, Constitutional Expert, Industry, Active Citizens , Associations etc.
The round table discussion began with the introductory remarks by Dr. H CHATURVEDI, Director BIMTECH. While addressing the gathering he said,
"If we remove Noida and Greater Noida what will Happen to Uttar Pradesh because these cities provide the maximum amount of revenue to the state and ironically both the cities are not taken care of that well, that is our concern. The organizations and people should come together to do something about this. Both the cities Noida and Greater Noida have come together with the development of the Noida – Greater Noida Expressway. Our Prime Minister in his first speech stated that we should focus on minimum government and Maximum Governance."
He further said, "All the things which will be said today will be handed over to the MLA Pankaj Singh in a form of a report , for necessary action."
Noida MLA Pankaj Singh made his remarks on the issue and showed immense interest for Municipal Corporation.
He said, "In democracy participation of Public is Necessary. I will try my best as MLA to increase participation of public in Authorities. Municipal Corporation do have their merits and demerits. If the work is done with honesty it can bring positive results. People of Noida and Greater Noida Are active Participants. Municipal Corporation work should be done as fast as possible because it will benift the society and residents of Noida and Greater Noida."
Speaking on the occasion, DM of Gautam Budh Nagar, BN Singh said,
" The total population is 30-35 lacs in Noida. The composition of people who are staying are Majorly the Migrants. In coming years the population will increase and as well as there will be more development. Logistics hubs are being made so there is a Huge development in Noida. Greater Noida Metro will also make a huge development in Noida."
He further said, "Authorities in Noida are doing double work of both development as well as maintenance. Instead of being emotional we should be rational. If elected body will come in Noida there will be different problems. We should not copy other regions and their policies because every region is different. We should find solutions in realism."
Speaking on the occasion, Shravan Kumar Sharma, Former Commissioner Meerut said,
"Authority is the main managing body in Noida but i feel municipal corporation is also needed because authority mostly look for land and property issues and then the civic amenities issue becomes secondary. There are several issues in Noida which were ignored by the authorities so a body like Municipal Corporation can solve these issues."
NP Singh, FONRWA, President, said, "If I talk about the Corporations. All the organisation like FONRWA, CONRWA and other working Corporations are working in the absence of Municipal Corporation. There are Good Roads, Houses, Facilities but yet there is no maintenance. We pay so much as taxes for these organizations but still we are having so many problems. We people are not getting the returns of our income tax. There is so much corruption in Noida and greater noida Authority. I personally feel the chairman of the Noida and Greater Noida Authority should be chosen by people. Noida Authority should work for the betterment of Noida in every possible way."
Om Prakash Divate, Municipal Corporation Commissioner, Thane gave a presentation on Thane smart city Limited and spoke about the differences between the Infrastructure and Healthcare in Noida and Thane.
"A municipal corporation is required to maintain the facilities and have a proper care. Many dignitaries spoke about several cases like dog bites etc. To overcome this we need a proper structure that can be only solved by Municipal Corporation," he stated.
Jewar MLA Dhirendra Singh, speaking about the need for Municipal options for Noida region said " In India local bodies are always there and in Noida and Greater Noida the need of these types of local bodies is increasing day by day, so the government should give a thought about this basic need of the people of Noida".
The discussion came to an end with a vote of thanks by Gajanan Mali
The successful event was able to being together diverse minds and was able to sensitize the issue.
SK Jain, President, Noida Sector 18 Market Association, Sadhna Sinha, Mahila Shakti, Rajkumar Bhati, Samajwadi Party Leader, Ranjan Tomar, Advocate, Delhi High Court and many other eminent citizens were also present on the occasion.