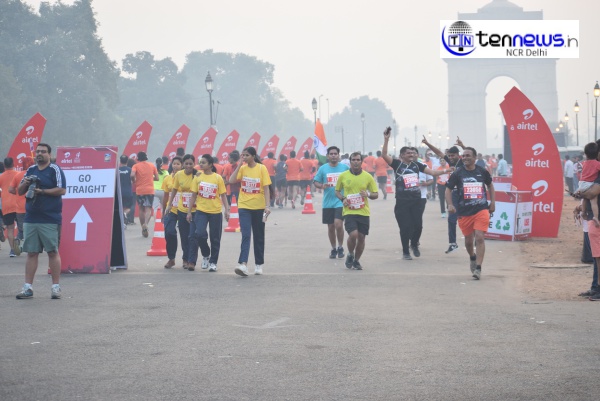 New Delhi: Today, Airtel Delhi Half Marathon kicked off its 14th edition on the roads of Delhi. Thousands of people ran today as a step towards a healthy and brighter future.
The morning at India Gate was pleasant for all the runners who took part in the Marathon. Runners were full of enthusiasm and joy while running as part of Airtel's Marathon.
Running is a method of terrestrial locomotion allowing humans and other animals to move rapidly on foot. Running is a type of gait characterized by an aerial phase in which all feet are above the ground . This is in contrast to walking, where one foot is always in contact with the ground, the legs are kept mostly straight and the center of gravity vaults over the stance leg or legs in an inverted pendulum fashion.
Buoyed by the success of the opening edition of the Standard Chartered Mumbai Marathon, Procam zeroed in on the capital city of India, New Delhi, and thus started the journey of the Delhi Half Marathon in 2005. Rio Olympics Marathon Champion and the fastest marathoner in the world, Eliud Kipchoge, chose to participate in and won the Airtel Delhi Half Marathon 2016.
Airtel Delhi Half Marathon 2017 was an event to remember as it included 23,000 people from Delhi and other states as well.
Speaking to Ten News, runners from Delhi shared their views about how they felt to be the part of Airtel's initiative. They were all associated with Airtel Delhi Half Marathon since the last 3 years and are looking forward for more of such marathons as people today are busy with their work life and do not get sufficient time to run, Airtel Marathon is something like an excuse from their daily work life and run.