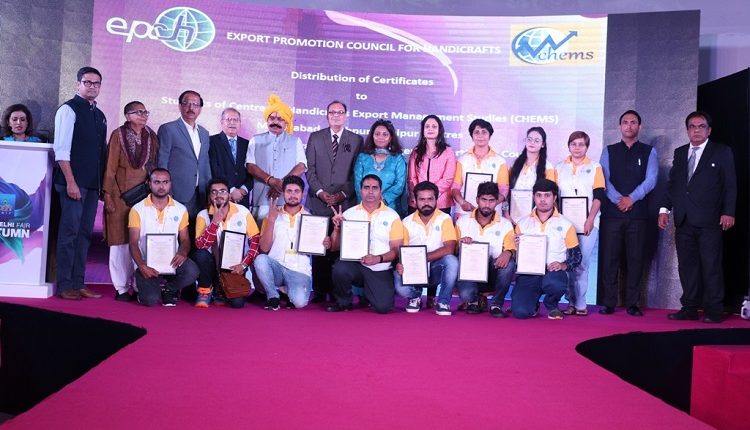 Ajai Shankar and P.N. Suri Memorial Awards distributed at IHGF-Delhi Fair at India Expo Mart
GREATER NOIDA – October 19, 2019– Shri Chaudhary Uday Bhan Singh, Minister of State for Micro, Small and Medium Enterprises, Khadi & Grammoudyog, Textiles, and Export Promotion, Govt. of UP  visited the 48th edition of IHGF-Delhi Fair Autumn being held at India Expo Centre & Mart, Greater Noida.
Shri Ravi K. Passi, Chairman – EPCH, Shri Sunit Jain, President of the Fair, Mrs. Neetu Singh, Mr. Ravindra Miglani, Vice President of the Fair, Shri Rakesh Kumar, Director General – EPCH, Members of Committee of Administration of EPCH were present on the occasion. 
Hon'ble Minister of State Shri Chaudhary Uday Bhan Singh after visiting the fair, appreciated the efforts of Export Promotion Council for Handicrafts for creating such a very important platform for more than 7 millions artisans and craftpersons who are engaged in manufacturing of handicrafts in different craft clusters of the Country and are the backbone of handicrafts sector which is the largest employment provider sector after agriculture.
Minister of State also gave away the prestigious Ajai Shankar Memorial and Late Shri P.N. Suri awards to the exhibitors for best design and display in various product categories.
Ajay Shankar memorial awards were instituted in the memory of late Mr. Ajai Shankar, former development Commissioner (Handicrafts) who was one of the major motivators for establishing these fairs and in the memory of Late Shri P.N. Suri who was the first Chairman of EPCH and was one of the renowned motivator  and exporter of handicrafts informed Shri Rakesh Kumar, Director General – EPCH
Certificates to 54 students from Moradabad, Jaipur and Jodhpur for course in Handicrafts Export Management being provided by Centre for Handicrafts Exports Management Studies, an education  initiative of EPCH were also distributed by Hon'ble Minister of State.
Ajay Shankar and P.N. Suri Memorial Awards for the Best design & Display Stand in the category of Houseware, Table, Kitchen and Hotelware, Fashion Jewellery & Accessories, Furniture, Furniture Hardware & Home accessories, Home Textiles, Furnishing & Floor coverings, Lamp Lighting & Accessories and Christmas decorative and festive décor were distributed.   In each category Gold, Silver and Bronze trophies were given.