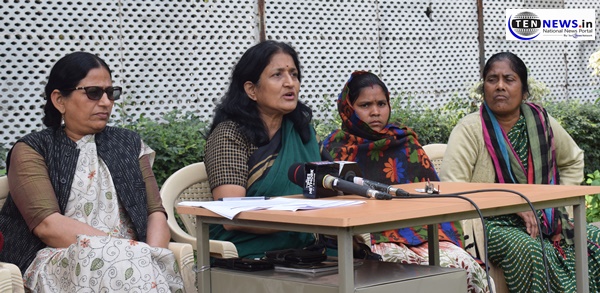 New Delhi: (05/03/2019) All India Democratic Women's Association (AIDWA) and Akhil Bharatiya Janwadi Mahila Samiti Delhi state committee on Tuesday held a Press Conference to bring out the problems being faced by women and allegedly exposing the utter failure of the Ujwala Scheme, and the fraudulent claims of the BJP in this regard.
Women from the bastis in Delhi who have suffered from the after effects of the Ujwala Scheme also shared their experiences.
While speaking to Ten News, Mariam Dhawale, National General Secretary, AIDWA, said,
"Among the many achievements of Modi regime one can count false promises and tall claims. But in spite of the tall claims about the success of the, Ujjwala Gas Yojana by Modi Government it has i turned out to be a damp squib."
She further said, "The hype generated about the yojana having benefited thousands of women across the country to come out of their smoky chulha environment remained what most of this government's pronouncements have been a mere jumla. We have conducted a survey of the recipients of the ijala Yojana which has exposed the false claims of the Modi government."
"The beneficiaries are few and far between.The gas chulha and cylinder are not doled out for free there is an initial payment to be made. What is interesting is that this payment is not a constant, it varies from Rs. 1200-3000.The chulhas are of very poor quality. In one case, the beneficiary reported that it broke after she kept a heavy vessel on it," said Dhawale.
"The next round of filling was the actual shock no subsidy on the cylinder. In effect the Ujjwala gas turned out to be more expensive than a regular connection. The chulha and the cylinder became mere show pieces in the house while many beneficiaries reverted to traditional modes of cooking. Thus Ujjwala has actually been used to cheat people out of their subsidies," added Mariam.