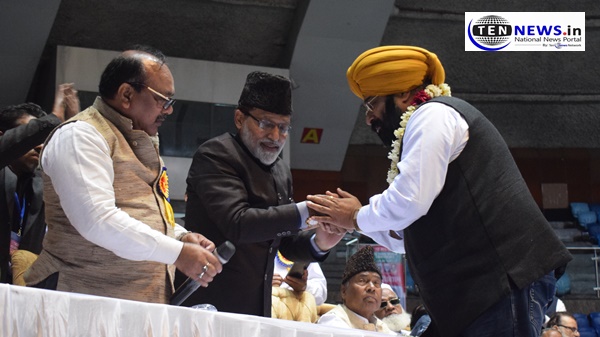 All India Momin Conference Celebrates 100 Glorious years in National Capital!
VISHAL MALHOTRA / JITENDER PAL- TEN NEWS
New Delhi 🙁 03/03/2019) National Conference of All India Momin Conference was celebrated at Talkatora Stadium on Sunday. To mark the 100-year celebration the event was chaired by the National President of the Conference Advocate Feroze Ansari and Akhil Bharatiya Congress Congress Treasurer Ahmed Patel who were present as the chief guest. The conference was also attended by the Chairman of the Delhi Pradesh President and Program Welfare Committee, Haji Mohammed Imran Ansari.
In his presidential address, Advocate Feroz Ansari said that Momin Conference has been a special contribution in the country's independence.
Momin's conference is the only institution which opposed the partition of the country and the ideology of Jinnah.
Speaking to Ten News at the conference, Imran Ansari said, "We have now stepped in 101st year of our institution. And we now aim to double the work we do for the betterment of society. There are still thousands of people who belongs to Ansari caste, who are yet not provided with the basic requirements and we will survey it out in a proper manner so as to reach every single person who seek our help.