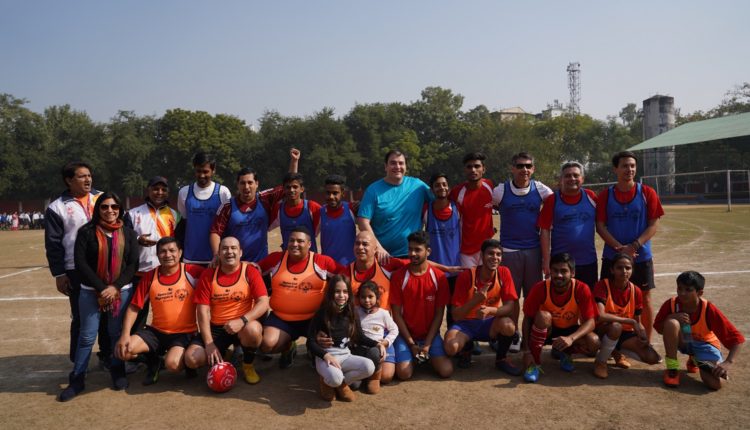 New Delhi: To demonstrate inclusion through sports on 3 December 2018, the International Day of Disability, Special Olympics Bharat brought together two Unified teams to play a friendly match at the Frank Anthony Public School New Delhi. A unified 7-a-side football match was played for a duration of 35 mins. The match aimed at initiating an extraordinary relationship with the Special Olympics athletes as the Unified Partners were the honourable diplomats from the GRULAC (Group of Latin America and Caribbean) Countries.
Following a meeting with His Excellency Hector Cueva Jacome, Ambassador of Ecuador the occasion was earmarked for a Unified sporting experience and also viewed as an opportunity to relay a message of recognition and acceptance beyond national boundaries while celebrating 50 years of the Special Olympics movement.
Unified Sports encourages people with and without Intellectual disabilities to team up and play. This breaks barriers in as much as targeting common goals and sharing experiences, it is considered as a catalyst in promoting inclusion.
Air Marshal Denzil Keelor, Founder Trustee, SO Bharat on the event said, "I am extremely humbled by the enthusiasm of the diplomats of the Latin American nations to unify with our Athletes. On this day earmarked for recognition and acceptance of Persons with Disabilities, an engagement like this is sure to relay the message of Inclusion beyond National boundaries. I am glad that we have this opportunity to demonstrate the zeal, skill and abilities of our Athletes; having them to engage with yet another genre of the society we had not reached out to so far."
On the occasion of the International Day of Disability, His Excellency, Hector Cueva Jacome, Ambassador of Ecuador said, "Thank you to my colleagues from Latin America for being here today. We are here because we believe in being Unified with the Special Olympics movement in India. My father has worked with the Special Olympics for the last 40 years and now we are happy to be supporting Special Olympics Bharat."