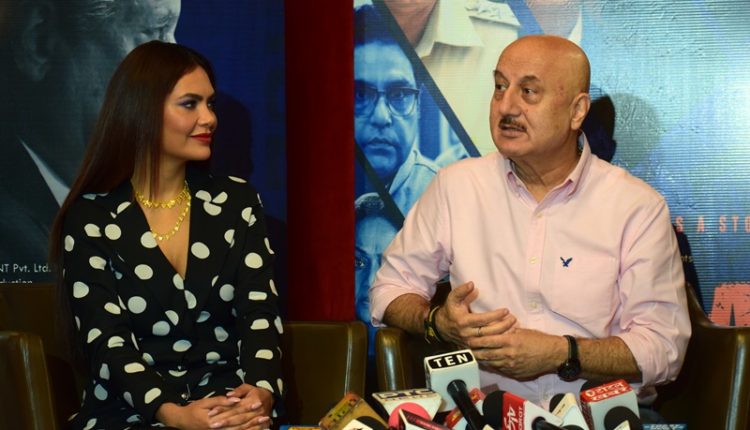 Anupam Kher and Esha Gupta promotes their upcoming movie "One Day: Justice Delivered" in New Delhi
Talib Khan (Photo-Video) Lokesh Goswami Tennews New Delhi :
New Delhi: Today, Veteran Actor Anupam Kher and actress Esha Gupta promoted their upcoming action thriller titled One Day: Justice Delivered. The movie stars Anupam Kher, Esha Gupta, Kumud Mishra and Anusmriti Sarkar in lead roles. The press conference was held at Le Meridien hotel, New Delhi. The movie will be released on 5th July 2019.
The upcoming movie is produced by Ketan Patel and Swati Singh. It focuses on the investigation and strategies followed by a crime branch special officer to solve the mystery of missing high profile persons.
Present at the event, actor Anupam Kher said, "My role in the movie is of a retired judge, who once was bound to pass an untruthful judgment and release the criminals because of lack of evidence. Later, when he retires and realize that what he did was wrong he goes back to find those criminals and torture them to admit their crime."
When asked about Zaira Wasim's decision to quit acting, he said, "I feel sad that a 16-year-old girl has taken such decision, on the other hand, we speak about women empowerment in the country. Anyways, that was her personal choice and it's our fundamental right to choose what we want in our life. And the fact she has gone out and said that I am doing it for religion, it has given a certain amount of tilt to her decision."
Actress Esha Gupta spoke about playing the role of a cop in the film, "I felt satisfied by playing the role of a cop. However, it was in a movie but I was able to beat the goons who were guilty and deserved to be punished. Also, the film is very special to me as I am sitting next to my mentor sn teacher, Anupam Kher as co-star which feels great and I learned a lot from him during the shoot as well."