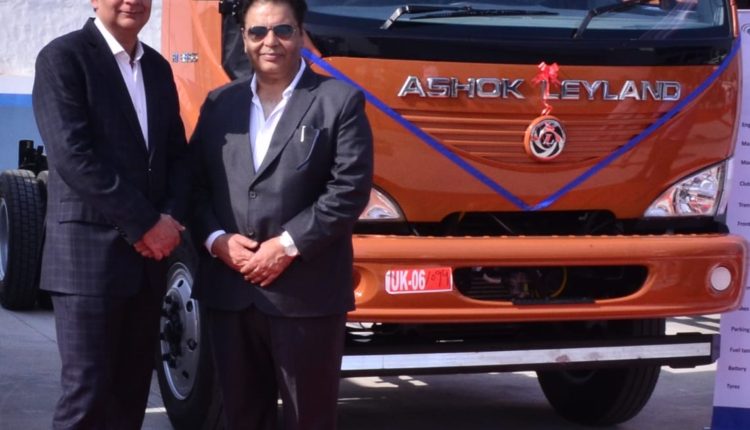 Ashok Leyland inaugurates new dealership in Greater Noida, resolves for hassle free operation
Saurabh Kumar
Greater Noida 1(1/23/2018) : Today Ashok Leyland, flagship of the Hinduja Group, today inaugurated a new dealership, Himgiri Automobiles Pvt. Ltd., in Greater Noida. The dealership is located near NTPC Netra, Ecotech II, Malakpur which is one of the busiest routes in the area.
Himgiri Automobiles has been partners with Ashok Leyland since 2010. This is their 7th touch-point of Ashok Leyland. This modern, 3S dealership (sales, service and spares) is spread over 32,000 sq. ft. and will cater to the entire range of Ashok Leyland vehicles with 14 (9 Mechanical , 3 Accidental, 1 Washing, 1 Wheel Alignment) fully-equipped bays.
Inaugurating the dealership Anuj Kathuria, President – Global Trucks, Ashok Leyland said "North India and NCR region is one of our fastest growing markets. We are constantly devising strategies for this market and building in-roads to be closer to our customers. We already have a very good equity in the market as customers here are already aware of the robustness and reliability of our products which leads to better margins, better profitability and hassle-free operations."
Present at the inauguration Anil Goel, MD Himgiri Automobiles Pvt. Ltd said "We have seen this brand grow from strength to strength, whether it is their innovative products or their constantly evolving technologies. It has established itself as a very strong brand in commercial vehicles industry and our facilities will help us to service the increase in demand that we foresee"
Commercial vehicles' demand in this region is majorly driven by White goods, parcel load, ICD Depot, and automobile manufacturing units. Ashok Leyland has one of the largest and fastest growing networks in the commercial vehicle industry. At the end of FY18, its network had expanded to 3445 touch points to provide timely service and parts. With an additional 5000 outlets for Leyparts, the genuine spare parts brand it has a service centre every 75 kms on all major highways which helps the brand deliver its "Ashok Leyland Quick Response" promise of reaching customers within 4 hours and getting their vehicle back on-road within 48 hours.