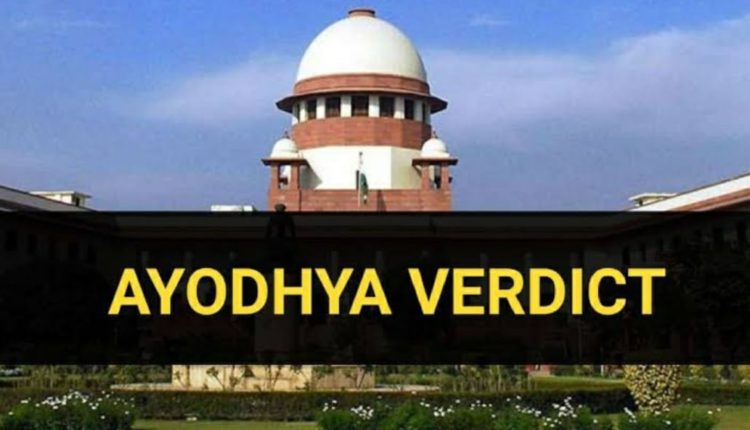 New Delhi(09/11/2019): Top Court has delivered its verdict on the Ram Janmabhoomi–Babri Masjid land dispute in Ayodhya today, marking other chapter in a centuries-old religious issue that is the country's most politically divisive row.
Speaking to Ten News, Lawyers working in Supreme Court who witnessed the 5-Judge bench session states, "The case, which has spanned centuries of religious history and languished in the legal system for almost seven decades, has finally seen a closure, as a five-judge Constitution Bench headed by Chief Justice Ranjan Gogoi pronounced its verdict. In a unanimous judgment, the Bench led by Chief Justice of India Ranjan Gogoi has ordered that a temple must be constructed at the disputed site and the Muslims must be compensated with five acres of land at a prominent place in Ayodhya."
Thousands of force members and police have been deployed in Ayodhya, where the Babri Masjid mosque was razed in 1992 by hardline Hindus who believe the site is the birthplace of Lord Ram.
"We respect the verdict of the Supreme Court in the Ayodhya case. We appeal to all the parties concerned and to all communities to abide by the secular values and spirit of fraternity enshrined in our Constitution and to maintain peace and harmony", added a woman lawyer while having a word with Ten News.
People are tweeting from all over the world.
"It is the responsibility of each one of us to reaffirm our tradition of mutual respect and unity among all that has defined our society through the ages", tweeted UGC head in his tweet.
One person from Nirmohi Akhara said that "we are grateful that SC has recognised our fight of last 150 years and has given the Nirmohi Akhara adequate representation in the trust to be set up by the central government to build & manage the Shri Ram Janmasthan Temple."
Senior advocate Joshi from Top Court while sharing his words after the judgement said, "This is a life-changing decision taken by SC which has finally resolved the 70 year long dispute. SC has granted the construction for Bhavya Ram Mandir in Ayodhya and has promised Muslim Community to be granted with 5 acre of land in Ayodhya which will be allotted by Central Government in next 3 months!"