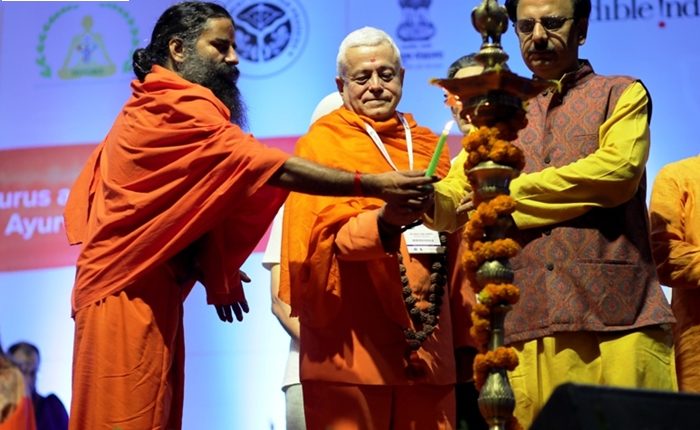 25,000 Participants attend the Yog Shivir with Yogrishi Swami Ramdevji Maharajat Ayuryog Expo 2019
Ten News Network
Greater Noida – November 9, 2019  –  Day three was a historic day at Ayuryog Expo 2019 as Yogrishi Swami Ramdevji Maharaj conducted A mega Shivir on Yoga and holistic healing. The session which began at dawn was attended by nearly 25,000 participants including students from different schools and more than 200 disciples of Amrta Suryananda Maharaja from Europe.
During the Yogshivir the Yogrishi also appealed for everyone to maintain calm and respect the momentous decision of the Honourable Supreme Court.
The other dignitaries present during the mega event were Swami Amrta Suryananda Maharaja, Padamshri Dr. HR Nagendra, Dr. Sat Bir Singh Khalsa, Asstt. Professor, Havard Medical School, Dr Shirley Telles, Director, Patanjali Research Foundation, Haridwar, Dr. Lorenzo Cohen, Professor, Department of General Oncology and Behavioral Science and Director, Integrative Medicine Program, University of Texas, Dr. Jaydeep Arya, Chief Central Coordinator, Bharat Swabhiman Trust and Mr. Rakesh Kumar, Chairman – India Exposition Mart Ltd.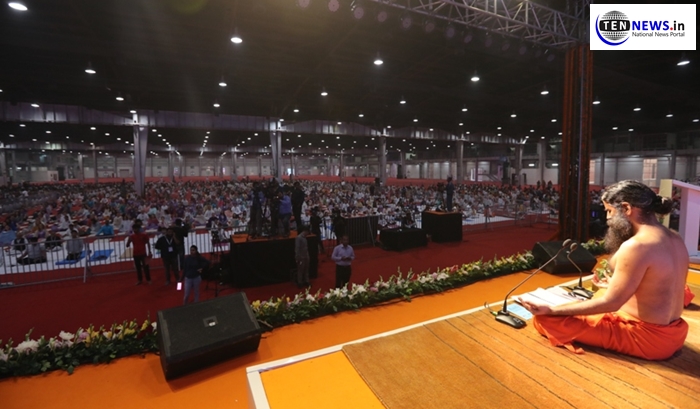 The Shivir received an overwhelming response where attendees were delighted to have had received the opportunity to widen their familiarity on Yogic Science which is still nascent. Various foreign visitors also lauded the efforts of EPCH and IEML for organizing world's largest assembly on Yoga, Ayurveda and naturopathy bringing all yogis, gurus, experts and eminent personalities related to Ayurveda, Yoga and Naturopathy under the same platform. They were also pleased by plenary and technical sessions being conducted by pantheons of Ayurveda, Yoga and Naturopathy fields