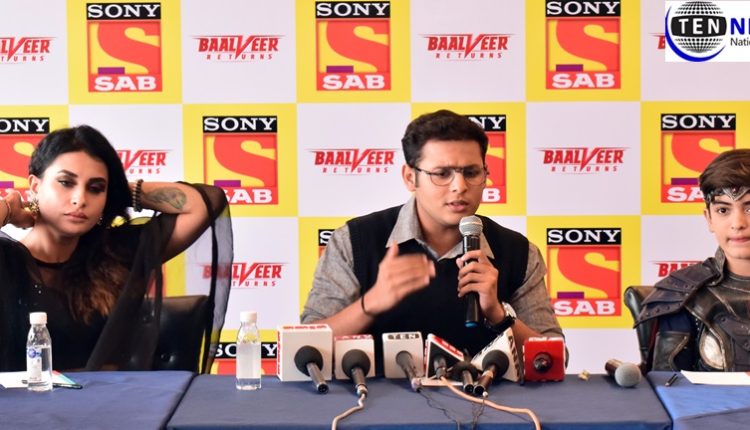 Balveer Returns: Special interaction with Stars 'Debu Bhaiya' and 'Vivaan'
Vishal Malhotra/Lokesh Goswami Tennews New Delhi :
New Delhi, February 24th : Sony SAB's favorite fantasy show 'Baalveer Returns' has kept the viewers entertained and will continue to keep them intrigued with unexpected twists and dramatic turn of events as Baalveer (Dev Joshi) has lost his powers and the safety of the world is now in the hands of Vivaan (Vansh Sayani), the new Baalveer.
Baalveer, who has lost his memory along with his powers, is now impressing the audience with his new look of Debu Bhaiya. On the other hand, Vivaan finds it difficult to live up to the title of 'Baalveer' and save the world. Recently, the show also saw the entry of the very adorable Anahita Bhooshan, who is sure to bring in some added drama and surprise for the viewers. The episodes ahead will be filled with shocks and huge revelations.
To share the success of the show, the two Baal veers along with their arch enemy Timnasa, Pavitra Punia recently visited New Delhi and interacted with their fans. Overwhelmed by the love and affection they have received from the audiences, the cast was excited to meet their fans at the capital city and spend some time with them.
Dev Joshi, playing the role of Baalveer said, "I'm so glad to have visited Delhi and meet the amazing people here. We have a huge fan base here and I am in total awe of the vibe of the city. I was specially looking forward to try the mouth-watering chaat and the famous Chhole Bhature in Delhi. It is always great to meet the fans as we don't get the time to thank them for their love in our busy shoot schedules. We had a beautiful time there."
Vansh Sayani playing the role of Vivaan: "It feels great to be a part of a fantasy show, especially to play the role of Baalveer. Receiving so much love from the viewers in Delhi was overwhelming and I had a lovely time with everyone here. I really loved the delicious food in Delhi and I am looking forward to come back to this beautiful city to meet my fans and taste some wonderful delicacies."
Stay Tuned to Baalveer Returns, Monday to Friday at 8 PM only on Sony SAB