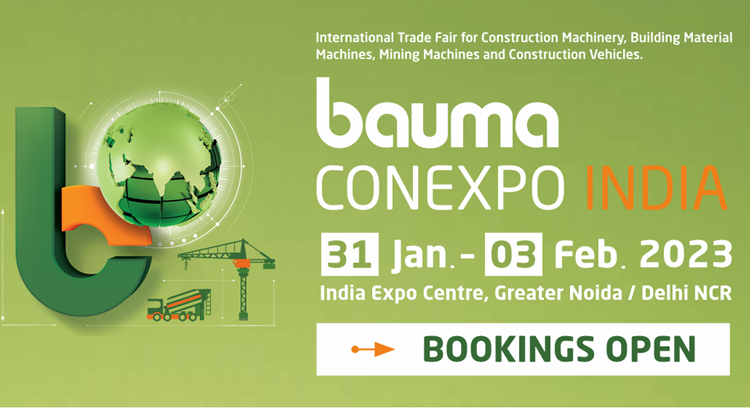 Bauma Conexpo Showcasing Innovations in Road Construction to open at India Expo Mart on Tuesday
Ten News Network

Delhi NCR (India), 30th Jan 2023: The Bauma Conexpo India, a major international trade fair for construction machinery, building material machines, mining machines, and construction vehicles, is set to kick off on January 31st, 2023.
Over 600 technology suppliers from 23 countries will gather at the India Expo Centre in Greater Noida, Delhi NCR, for the event, which is expected to draw in over 50,000 visitors.
The fair will feature advanced road construction equipment with the potential to transform India's infrastructure. With 20 live demonstrations by OEMs and 20 technical sessions, the event will bring together industry players such as OEMs, component manufacturers, raw material distributors, infra and project builders, and more.
The Indian government has allocated a massive $1.4 trillion under the National Infrastructure Pipeline, with the road sector set to receive 18% of this investment. This will result in 200,000 km of the national highway network being completed by 2024–25, including 5,590 km of four- and six-lane highways.
Thanks to advanced construction technologies and increased mechanization, India can now build nearly 40 km of roads per day, compared to just 5 km a decade ago. This has resulted in faster project completion and brought various socio-economic benefits, such as improved access to education, healthcare, and ports or airports for businesses.
"The upcoming edition of bauma CONEXPO INDIA aims to improve mechanization for nation-building by bringing together leading players in India's infra-development landscape," said Bhupinder Singh, CEO of bauma Conexpo India. "With India being one of the top five equipment manufacturing destinations in the world, bauma Conexpo India will facilitate high-value collaborations to promote advanced road construction equipment technologies and enhance India's road infrastructure for stronger connectivity and economic development."