BIMTECH Director Dr. H. Chaturvedi flags the challenges in implementation of National Education Policy 2020
In a webinar organized by ASMA on "Exploring Future of Education & Work", BIMTECH Director Dr. H. Chaturvedi spoke about the challenges that stand in the way of countrywide implementation of the National Education Policy 2020.
Dr. Chaturvedi mentioned the requirement for coordinated efforts by the union and state governments as the first challenge in implementation of NEP.
"First of all, the central and state governments should join hands because education is under concurrent list in the Indian constitution. The central govt cannot decide everything and leave it on the state governments for the implementation."
"In the case of new pay scales as well, the state governments have to always press the union government to provide additional funding for its implementation," said Dr. Chaturvedi.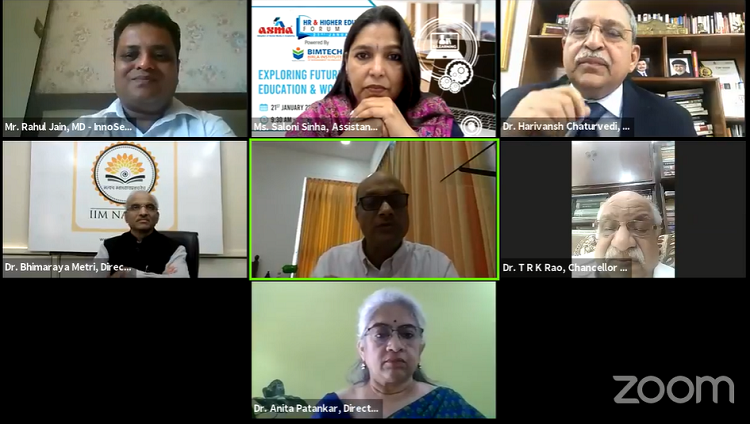 Lower budgetary allocation towards the education sector was mentioned as the second challenge by Dr. Chaturvedi in implementation of National Education Policy.
"In 1968, the Kothari commission suggested that unless 6% of GNP is spent on education, no radical reforms can happen."
Highlighting the need for increased funding, Dr. Chaturvedi said "Currently only 26% are enrolled in universities and colleges, but according to NEP, this figure should reach 50% in next 10 years, it means 400 million additional students will be accommodated in the system in the next 10 years which will require huge funds – Rs 1 lakh crore per annum as per an estimation, unless we have this kind of commitment from the union and the state governments, the NEP targets will not be implementable."
Dr Chaturvedi also rooted for Education to be of topmost priority for the government saying "Education should be the topmost priority along with the health, we had ignored health as a top priority which made us suffer during this pandemic."
Stating what is at stake with NEP, Dr. Chaturvedi said, "Our young population is very impatient, they want a decent job in their hands. If our education system, government, society cannot give them employability, then I think there will be a lot of social evils."
During the webinar, the BIMTECH director also touched upon the importance of imparting industry 4.0 skills to the young professionals in order to prepare them for the automation era.
"We need to ensure that our students get decent jobs, analytical jobs after passing out. They need to be trained for applying the concepts of industry 4.0 in their studies and future job roles, for that we will require a lot of IT infrastructure and also re-training of teachers. So far even normal infrastructure is not available in the majority of public institutions.
"Implementation of Industry 4.0 and NEP will depend on how we are going to upgrade the infrastructure available for software as well as hardware in our universities and colleges," said Dr. Chaturvedi.