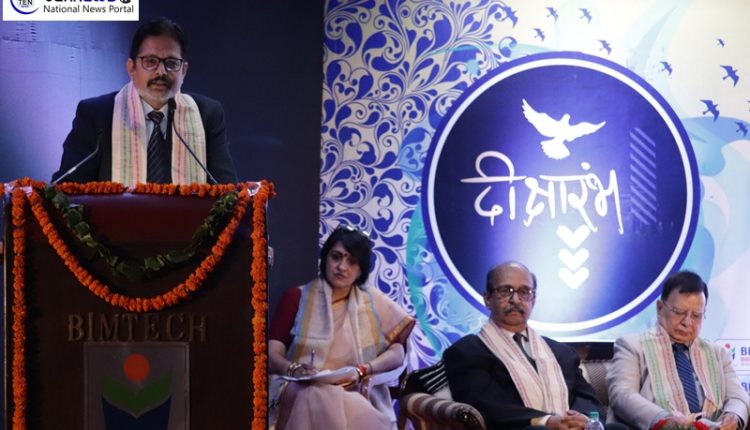 BIMTECH Observes Commencement Day for 31st Batch of Students, Industry leader Inspire with motivational speech!
ROHIT SHARMA / ASHISH KEDIA
Greater Noida :– Birla Institute Of Management Technology Greater Noida celebrated its 31st commencement day today. Aptly named as 'Diksharambh' the ceremony marks the beginning of academic year for the newly admitted batch.
Stephen's Graduate and Group President HR and Corporate Services & CEO (After Market Services) at Mahindra and Mahindra Group Rajeev Dubey was the Chief Guest for the occasion whereas Guest of Honour was Alok Kumar Chaudhary, Chief General Manager, Delhi Circle, SBI".
Delivering the welcome address BIMTECH Director H Chaturvedi said, "BIMTECH's current batch has students from complete stretch of India right from Agartala to Gujarat and Srinagar to Thiruvananthapuram. We are pleased to have such diversity and looking forward to provide them with best quality education in line with our philosophy of excellence with values".

Talking about BIMTECH's great repute among B-Schools of country he said, "BIMTECH is being rated very high by all government agencies such as NAAC as well as MHRD ranking. Ours is a residential centre and we are run by faculty and not owners. A significant number of our faculty members are Industry veterans who are here after an illustrious experience in Industry. We have strong alliances with B-Schools and universities in five continents from the world".
Thereafter SBI CGM Alok Kumar Choudhary addressed and motivated students with a very inpsirational address. He also gave a very innovative and relevant definition of ROTI and elaborated upon it as the success mantra for upcoming batch.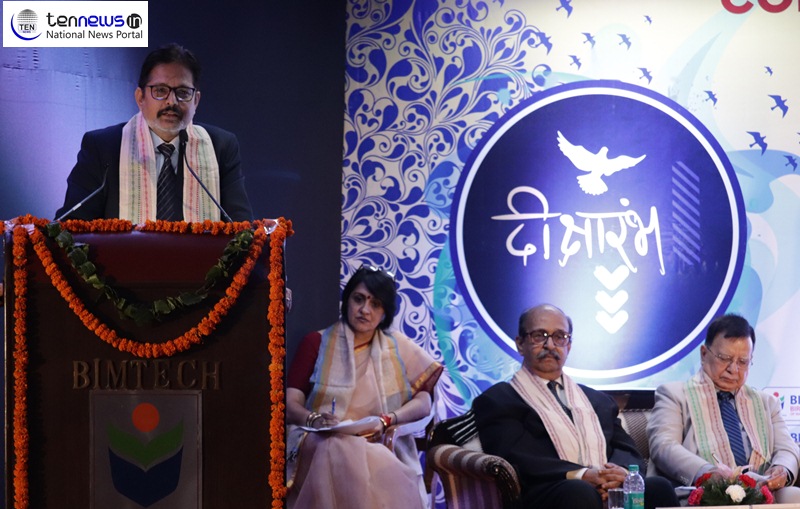 He said, "Achieving "Return On Time Investment – ROTI" is the success mantra for budding business managers. All of you students are going to be industry leaders in different parts of the worlds in next few years but it is important for you to make use of the coming two years for to achieve that feat. ROI or return on time investment is important but with the fast moving and rapidly changing world it has become evident to have Return On Time Investment so this On Time factor and its significance must be kept in mind at all times".
Alok Dubey, Group President HR & Corporate Services & CEO (After Market Services) Mahindra and Mahindra was the chief guest for the 31st commencement day ceremony of BIMTECH, Greater Noida and he presented his views on 'Creating New Leaders' with a very crisp and clear powerpoint presentation.
He started with talking about the new normal and moves forward to emphasize on the importance of who, why and what.
He said, 'It is important to focus things from the human point of view. It is the most important thing for a leader to have a dream or purpose. It is important to unleash one's potential and the best way to do it is by empowering all stakeholders. One need to use whole new mind by combining the left and right brain. The basic requirement is to do more with less. A leader should be a multiplier".
He further added, "Innovation is going to be the prime requirement of tomorrow's companies and managing fear and leveraging failure is going to be very important".
Thereafter a book written by BIMTECH professor DR. KC Arora was also released. DR. Abha Rishi also released CIED annual report.
Vote of thanks was delivered by Dr. Anupam Verma after which the ceremony culminated with National Anthem.
Students and parents also expressed their enthusiasm and excitement on becoming a part of BIMTECH family. Ten News spoke to some of them, who were overjoyed with the last two days of induction ceremonies and spoke excitedly about their expectations and reason behind selecting BIMTECH.